The Premier League's Greatest Ever Nigerian Players
Published: October 16, 2019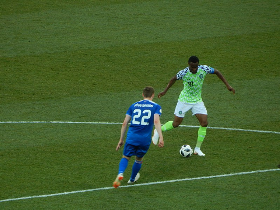 Throughout the years, the English Premier League has played host to some truly fantastic players.
From world class stars such as Thierry Henry and Wayne Rooney to  mavericks like Dimitar Berbatov, the EPL has long been a hotbed of talent from across the globe.
Some nations tend to produce more talent than others, however, particularly when it comes to the fast paced and aggressive style of English football.
In particular, Nigerian players have fared extremely well in this league over the decades. From bullish defenders to silk-footed central midfielders and mercurial strikers, some of the greatest Nigerian footballers have plied their trade in English football,
as well as in the Championship.
So, without further ado, let's take a look at some of the Premier League's greatest ever Nigerian players…
1.    Jay-Jay Okocha
Who else? The supremely talented midfielder is the first inclusion on our list due to his magical spell at Bolton Wanderers in the mid-2000's.
Gaining a cult following among Wanderers fans after almost single-handedly keeping the club in the Premier League, Okocha would go on to captain the club to the League Cup in 2004, although Bolton would eventually lose out to Middlesbrough.
A true maverick, the only real criticism that could be levelled at Okocha was a so-so goal record, with the Nigerian scoring just 14 times in 124 games at Bolton.
Although he wouldn't be anybody's
pick for top goalscorer
, it should be noted that Okocha was something of an assist machine for the Lancashire side.
Okocha brought the kind of mesmerising dribbling to the Premier League that one would be more inclined to expect at the Maracana than on a foggy evening in Lancashire. Insanely skillful, endlessly cheeky and a downright top drawer footballer, Okocha might just be the greatest Nigerian footballer of all time, let alone of those to play in the EPL.
2. Nwankwo Kanu
When he signed for Arsenal in the summer of 1999, the Gunners' biggest and most bitter rival Manchester United had just completed a domestic and European clean sweep by winning the Premier League, FA Cup and the Champions League.
Desperate for an ace in the pack, then-manager Arsene Wenger turned to Inter Milan misfit Kanu.
What followed were two league titles and two FA Cups for Arsenal and Kanu in the space of just five years.
A deadly finisher with a knack for a key goal, Kanu's greatest moment in an Arsenal shirt came when he scored a fifteen minute hat-trick against fierce rivals Chelsea in what was a 3-2 win for the Gunners.
As with Okocha, Kanu developed a cult following as he played 119 games for Arsenal, scoring 37 goals.
He would also represent West Bromwich Albion (58 games, 9 goals) and Portsmouth (141 games, 20 goals) in the Premier League, making him a true Nigerian legend of English football's top tier, and one also known for
helping out in the community.
3. John Obi Mikel
Famous for making a mark even before he had kicked a ball in England, John Obi Mikel was the subject of a bizarre transfer and subsequent legal tug of war between Manchester United and his eventual destination Chelsea.
Having initially announced his move to United from Norwegian club Lyn for £4 million, Mikel went missing for nine days before it was revealed that the player would now be making a £16 million move to Chelsea.
Regardless of this controversy, Mikel would go on to play for Chelsea 249 times in an 11 year spell with the West London club, winning two Premier League titles as well as three FA Cups, one Champions League and the Europa League.
A no-nonsense defensive midfielder, Mikel gained a reputation as a tough tackler and a quality recycler of the ball.
In particular Mikel shone under Jose Mourinho, whose conservative tactics were the perfect foil for the Nigerian to show off his key attributes in dispossession and intelligent distribution.
Ifeanyi Emmanuel

Photo by Oleg Bkhambri (Voltmetro)