Nigeria U17 Coach Identifies The Two Key Weaknesses In His Squad Despite Thrashing South Korea
Published: October 17, 2019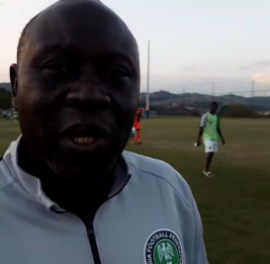 Nigeria U17 head coach Manu Garba was delighted to see his team beat South Korea 4-2 in their latest friendly despite travel difficulties before the game.

''It is a good omen, good omen in the sense that we lost the first match against Sao Paulo 2-1,'' Manu Garba said.

''We were able to travel two and a half hours to play a match, without stress we were able to win 4-2 against South Korea.

''It is not the winning that matters but the way we came back into the game because we were 2-1 down. We came from behind, leveled up and we scored two other quick goals.''
On the flip side, the 2013 U17 World Cup-winning manager identified two weaknesses in the team that needs to be addressed urgently ahead of their opening match at the World Cup against Hungary on October 26.
While everyone is aware of the Golden Eaglets defensive frailties at the back having conceded 13 goals during the zonal qualifiers and U17 AFCON, Garba added that they also have problems dealing with corner kicks.

''The most important thing is the chances we created but still even with the win we still have areas to address especially our defensive coverage and try to solve problems of corner kicks too.

''If you notice we conceded one of the goals from a corner kick, one from a penalty kick.
''Most importantly, the win will go a long way to motivate the team before the World Cup proper,'' Garba admitted.

Garba went on to reveal that the Golden Eaglets could face Japan in their final friendly before the World Cup.
''All things being equal, if the distance from our place from where the Japanese stay is not more than an hour and half we can go and play but if the distance is too much I think this should be the last match.

''If the distance is not too far we will play our last match against Japan on the 20th of this month,'' he concluded.

Ifeanyi Emmanuel


Latest News