2019 Bet9ja Royal Cup: Lord Honour Taste Defeat on MD 3
Published: October 21, 2019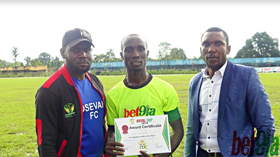 Table toppers in Group E, Lord Honour, tasted an unusual defeat in the hands of Osevan FC of Kwale on Sunday, October 20, 2019 in continuation of the 2019 Bet9ja Royal Cup.
The elite side conceded four goals under 30 minutes in the first half, as they lost 5 - 1 to Osevan FC.
The result took Osevan through to the knockout stage, with Shining Stars of Oleh and Delta Warriors of Otokutu out of contention having played a dramatic 1 - 1 draw in their tie at the Kwale Township Stadium.
It was, however, a different case in Group C, where FC Galaxy brushed aside Golden Friends FC of Oreokpe 2 - 0 to maintain their unbeaten run in the Royal Cup.
The slum side proved their quality and superior power over Friends through goals from Young Peter in the 3rd minutes and Rakpokeire Grant mid way in the second half.
The result did not dent Golden Friends' hopes of qualification to the Round of 16, having secured 6 points before the tie.
The other two teams in the group, Victorious FC and Ihun Iyase FC, were disqualified from the competition and the 2020 edition, after they failed to turn up for their final game.
Jahrock Ujewe