FIFA DRC Judgement Sum : BOT Member FIAN, Aminu Yusuf Dupes Malian Defender Coulibaly
Published: October 24, 2019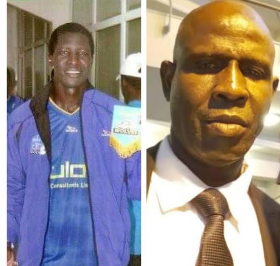 Nigerian football agent, a Board of Trustee Member of Football Intermediaries Association Of Nigeria FIAN, Mr Aminu Yusuf might have put the country in the news for the wrong reasons with evidence backed fraud allegations against him.
A Malian footballer Adama Coulibaly who played for Nigerian Clubs Bayelsa United and Warri Wolves filed a legal claim of outstanding remunerations against the two sides before the Dispute Resolution Chamber DRC of the world football governing body FIFA.

He appointed Mr. Aminu Yusuf who is a licensed football Intermediary registered with the Nigeria Football Federation as his representative for the legal process.
Not long after, FIFA ruled in favour of the player and ordered Bayelsa United to pay him the sum of N2,956,875.00 with an additional five percent payment interest per annum until the date of effective payment
The FIFA DRC also ordered Warri Wolves to pay him N6,775,000.00 with an additional five percent interest per annum as from July 18, 2016 until the date of effective payment.
An agreement that will see Mr Aminu Yusuf receive forty percent of the judgement sum had earlier been reached, while sixty percent will go to the player.
Bayelsa United and Warri Wolves requested for a Nigerian bank account to which they will make the payment, based on trust, Coulibaly willingly urged Mr Aminu Yusuf to provide his details which he did and the clubs paid all dues as directed by FIFA.
One of the so many allegations filed against Mr Aminu Yusuf has it that he refused to disclose that he had gotten the money, he also kept to himself the total amount received.
For instance, a Bayelsa United official confirmed that the club has fully paid the whole judgement sum to Mr. Aminu Yusuf as far back as 2017 to Zenith Bank account provided by Aminu Yusuf with name Team One Inv-World Sports Int. Ltd Account Number 1013922956.

A Warri Wolves FC official also confirmed they paid all the money in three tranches into the Zenith bank account with name May  Soccer Agency Account Number 1012026682, Ikorodu Road Branch provided by Aminu  Yusuf beginning from 2018 and the last installment was paid in February 2019.
Findings and confirmation from both clubs who both paid the judgement sums in full to Aminu estimates the amount collected by Mr Aminu Yusuf to more than N10 million from which he was to send sixty percent to the player based on agreement, the FIAN respected BOT member instead sent N700,000.00 to the player in April 2017, the ridiculous payment prompted Coulibaly to take steps through a Nigerian firm and requested that Mr Aminu disclose the total amount collected and send him the balance, despite receiving the correspondence, he still refused to disclose how much was received.
He then sent some money totaling N2,204,389.19 out of more than N10 million.
Series of letters which did not see the light of the day were written to the Nigeria Football Federation, Football Intermediaries Association Of Nigeria FIAN has also been alleged to be shielding their B.O.T member while it is obvious that he is indeed in possession of the player's hard earned money.
The decision of FIAN to shield Yusuf Aminu their BOT member did not come as a surprise.
A member of the Association some  months ago took to social media and posted "I will not be a part of the fraud called FIAN" same association whose member connived with players to forge clearance for selfish reasons.
In the meantime, Adama Coulibaly has engaged a Nigerian firm expected to relate the situation with the Economic and Financial Crime Commission EFCC and the Independent Corrupt Practices and other related offences Commission ICPC in the coming days.
Mayowa Ramadan Olaifa