Official : Two Players Sign Pro Deals With ABS, Promoted To First Team
Published: October 28, 2019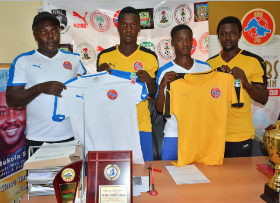 Two of Abubakar Bukola Saraki (ABS) Ilorin FC youth players, Sufian Bello and Muri Dagbo have signed their first professional contracts thus promoted to the senior team.
Dagbo, a central defender and Bello, a midfielder signed their long term contract on Monday in Ilorin in the presence of the club's Director of Football, Alloy Chukwuemeka and their coach, Yomi Elijah.
Chukwuemeka said he is delighted to see the two boys developed to merit a place in the senior team.
"Our policy is to help young boys grow into adult in football and become super stars, that is the vision of our proprietor, Dr Bukola Saraki.
"Year in, year out, we have managed to develop one player or two, as we speak, Shola Abdulraheem is now one of the big revelations in the Nigeria National League (NNL).
"Don't forget Olakunle Olusegun who is currently with the Golden Eaglets in Brazil and a product of first edition of LMCLaLiga U-15 Promises" Chukwuemeka said.
Also speaking, Coach Yomi Elijah, said the two players are ones that have proven to him they can challenge the big boys in the team.
"No matter how small you are, if you can convince us you can do it at the highest level, we will take the risk and give you the opportunity to grow.
"They are two lads to watch out for, they have proven to us they ready and they are working well and hard in training" Elijah said.
Dagbo told the club's media after signing his contract, that today is one of the best days of his life.
"It is a dream come through for me to play for this team at the senior level, have always dreamt about it.
"I will work hard to pay the club the confidence they reposed in me" Dagbo said.
To Bello, to be promoted to the senior team is what he has always been looking forward to.
"Signing my first professional contract with ABS is a dream come through for me.
"This is a huge step forward for me in my career, I'm sure my parents will be proud about this because I promised them to play my way into the senior team" Bello said.
Dagbo was one of the players ABS put forward for the maiden edition of the LMCLaLiga U-15 Promises but couldn't make the final list but Bello was an integral part of the squad that won the trophy.
Igho Kingsley