Nigeria's Most Popular Football Betting
Published: November 29, 2019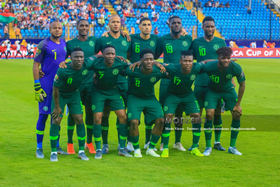 Football is everything to Nigerians. From listening to Nigeria Info on the way to work, to watching Celebrity Fans Challenge.
From following the Super Eagles to Premier League fan favourites, football is all encompassing.
But now we're asking the question: what football betting do Nigerians love most and what's the best football betting site for Nigerians looking to bet on the beautiful game.
5.
Super Eagles
Although club football dominates the calendar for most of the year, Nigerians support their national side with both their pride and their bankroll.
That makes one of the top five football betting favourites in Nigeria to be betting on the fortunes of the national team.
Whether it's the AFCON qualifiers and how we fair in the World Cup, the Super Eagles always have a special place in every patriotic Nigerian's heart.
No wonder you turn out in droves to bet on the Super Eagles year in, year out.
4.
NPFL


With four different clubs winning the league in the last five years, it's no wonder Nigerians are looking to their own backyard for some of their favourite football betting.
The NPFL might not have the glitz and glamour of the Premier League, but there's no doubt why it's consistently rated as one of the Nigerian's best and most entertaining leagues that's got the full support.
Now more than ever Nigerians are looking to bet on their domestic league and who can blame them. Betfair, which is considered to be the
best betting site in Nigeria
, according to BetBlazers, consistently offer high value odds for every match.
On top of that when it comes to playoff time there's so much more at stick and it's no wonder many players can't get enough of it.
3.
La Liga
There's no doubt that fans of Real Madrid and Barcelona push La Liga into third place when it comes to the most popular football betting in Nigeria.
It's true that La Liga doesn't have the same competitive edge throughout the league table as other major football leagues in Europe but the quality and unpredictability is plain for all to see.
Whether it's el clásico or lumping your bet into a weekend accumulator, La Liga makes it into Nigeria's top three favourite football betting.
2.
Champions League
We have to admit that we seriously considered this a contender for top spot. But ringing in at number two it's the Champions League. It's without a doubt the most prestigious football tournament in club football and an honour that every player dreams of winning.
But it's Nigerian football fans that also dream of winning big, making it one of the most popular football tournaments to bet on in the country. No wonder.
The quality of football is high, the range of coverage by betting sites for every game is simply massive, and it breaks up the monotony of the midweek very nicely.

Whether it's group stage action or betting on the overall winner, there's something for every avid player when it comes to the Champions League.
1.
Premier League
We all have our favourite team and we all support them with a fiery passion. The Premier League is without a doubt the most well watched football league in the country and has become woven into the fabric of Nigerian culture.
Whether you're Chelsea, Arsenal, City or United the stats have shown that the Premier League is hugely popular to bet on, week in, week out.
To find the most
popular betting tips
for the Premier League and all the major football leagues and competitions follow BetBlazers.com who deliver free, expert betting tips all year round.