Best U21 Player : Samuel Chukwueze's Position In Kopa Trophy Revealed
Published: December 03, 2019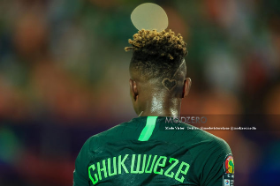 Juventus center back
Matthijs de Ligt
won the Kopa Trophy, rewarding the best young player (U21) of the year,  on Monday night at the ceremony of the Ballon d'Or at the Théâtre du Châtelet in Paris.
The Netherlands international beat Super Eagles rising star Samuel Chukwueze and eight other promising players to clinch the award.

Villarreal starlet Chukwueze tied for ninth place with Valencia's South Korea international
Lee Kang-in, who won the Golden Ball award at the 2019 FIFA U20 World Cup.
The right winger was in line to play for the Flying Eagles in the tournament in Poland but opted to represent the Super Eagles at the 2019 Africa Cup of Nations.

Completing the top five are Jadon Sancho, Joao Felix, Vinicius Junior and
Andriy Lunin

.

Arsenal midfielder Mattéo Guendouzi was the best ranked player representing a Premier League club, finishing joint sixth with Kai Havertz, while Everton's Kean was eight in the classification.

The Kopa Trophy winner is selected by a jury made up of former winners of the Ballon d'Or, each nominating three players in order of merit from a list of ten young players shortlisted by France Football.
Kopa Trophy Classification

1) Matthijs de Ligt (Netherlands, Ajax Amsterdam and Juventus)
2) Jadon Sancho (England, Borussia Dortmund);
3) Joao Felix (Portugal, Benfica and Atlético de Madrid)
4) Vinicius Junior (Brazil, Real Madrid)
5) Andriy Lunin (Russia, Leganés and Valladolid)
6) Mattéo Guendouzi (Arsenal)
6) Kai Havertz (Germany, Bayer Leverkusen)
8) Moise Kean (Italy, Juventus and Everton)
9) Samuel Chukwueze (Nigeria, Villarreal)
9) Lee Kang-in  (South Korea, Valencia)
Ifeanyi Emmanuel