'We All Know Messi Is Better Than Ronaldo' - Nigerians React As Barcelona Living Legend Clinches 6th Ballon D'or
Published: December 03, 2019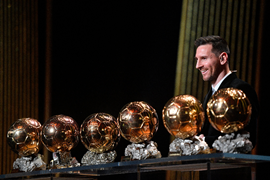 Barcelona superstar Lionel Messi has won the 2019 Ballon d'Or, beating Virgil van Dijk, Cristiano Ronaldo and Sadio Mane to the accolade on Monday night.
The Argentina captain won the award for the sixth time, one more than his great Portuguese rival, Juventus striker Ronaldo.

Messi first won the Ballon d'Or a decade ago and was also named the best player on the planet in 2010, 2011, 2012 and 2015.
The 32-year-old netted 36 goals in 34 La Liga matches last season, helping Barcelona to win the title and was influential as they reached the semifinals of the UEFA Champions League, scoring 12 goals in 10 games.

Majority of Nigerian football fans were delighted that Messi won the award and took to Twitter to share their thoughts :

@Oyewolestephe06 : ''I watch Neymar to see dribbling, I watch Ronaldo and Lewandoski to see scoring goals, I watch Debruyne and Alacantra to see playing makers. But when I want to watch all these together, I'll just watch the 6th time balloon d'or winner Leo Messi. #MESSIX G. O. A. T''

@Datgreatnigga : ''Don't ever let anyone tell you that Ronaldo is better than Messi #BallonDor2019''.

@kyrian_nnamdi : ''Messi is an artistic player''.

@capt_stad : ''I think if I were Ronaldo's brother, I would still admit Messi is better than him. No Cap, just facts.''

@tundeajibola : ''We all know Messi is better than Ronaldo.Mam can Run, He score goals(The Highest In a Calendar year 91), Score free kicks, Scores Hatricls like pure water, Scored from outside the Box, Assist Goals, Changes Games, Redefine game moments.Messi is nobody's Mate!!!''

@skillzmike : ''But last season even they used individual performance messi would have won it too''.

@jacobatitebi : ''Didier Drogba purposely use iPhone 6 because he knew Messi will win his sixth #BallonDor#MESSIX #Drogba''.

@Temiroyal1 : ''#Messix have been top trend since the last 12hours and will still be top trends for you for me,for ronaldo for his fans,for epl fans and for real madrid fans for then next 24hours more #BallonDor''.

@adedapo11 :''Lionel Messi is extraterrestrial, man scored 51 goals in 50 matches plus 22 assists last term but some people are crying that a defender who conceded 3goals against Barcelona should be crowned world's best. Utter lunacy everywhere.''

@thacuteman : ''Messi would still be the next ballon d'or winner because Ronaldo is tired and no other players in the world you can compare with Messi right now''.

@AsiwajuOladimej : ''They will talk about Sneidjer but they won't talk about Ribery.The record has been broken by Messi and he's not done.So watch out!!!''

@iam_franxiz : ''A day should be dedicated to Messi in Football. He deserves it  #MESSIX #BallonDor2019''.

@G_Samito : ''You can't stomach the fact that Messi stats at 32 already beats Ronaldo's at 34. Messi is getting more goals and looking likely for a 7th. Wah you gonna do then.''

@ERNESTHDGAMER : ''I'm even more confident of messi winning it next year than this years''.

@brightscopeNG : ''We celebrate #Messi. The king of football.Six times winner of #BallonDor''.

@Olumide54774035 : ''Congratulations to Lionel messi king of football''.

Ifeanyi Emmanuel

Photo Credit : francefootball. fr

2010, 2011, 2012 and 2015. - Source: Topmercato.com - Article:
https://translate.googleusercontent.com/translate_c?depth=1&hl=en&prev=search&rurl=translate.google.co.uk&sl=fr&sp=nmt4&u=http://www.topmercato.com/211828,1/le-ballon-d-or-2019-pour-lionel-messi-le-classement-integral.html&xid=17259,15700022,15700186,15700190,15700256,15700259,15700262,15700265,15700271,15700283&usg=ALkJrhg6IHuDQUluE81LanEB3xJBdUhyAQ