'Leicester Have Replaced N'Golo Kante, Remarkable' - Fans Hail Ndidi After Producing Exquisite Assist
Published: January 01, 2020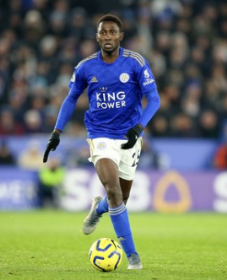 Wilfred Ndidi put in an impressive shift in the middle of the park as Leicester City claimed a 3-0 victory over Newcastle in their Premier League meeting on Wednesday evening.

Playing his 20th league game, the Nigeria international laid off an assist for midfield partner Hamza Choudhury in the 87th minute, with a deft pass for his cracking goal in the victory.

His all round performance was eye-catching and domineering, and such display had got people talking on the microblogging platform, Twitter, with most observers hailing him.
Below were some of the tweets we gathered..
@DominicWells: Wilfred Ndidi has played a perfect first half, the small passages of play where #LCFC have been out of possession, Ndidi has won it back. He's intercepted, tackled & progressed the ball superbly. Somehow, #LCFC have replaced N'golo Kante, remarkable.
@mikeivory91: That Ndidi assist 🤤🤤
@DominicWells_SJ: #LCFC's overall performance, outstanding. Some of the standout players being; Maddison, Ndidi & Fuchs.  Maddison the creative source, Ndidi winning everything in the middle & Fuchs - out of position (LCB), was brilliant, went about his work quietly.
@basilabia: Just seen Ndidi's assist. Exquisite, like my pastry making skills
@EaglesTrackerNG: New Year, Same Ndidi. Wilfred Ndidi with an assist and a brilliant performance in Leicester City's win.
@GLimbert4: Single pivot 352 worked well today against a poor Newcastle side with obvious injury issues. Maddison and Tielemans both got time on the ball, Ndidi unbelievable. Perez looks so much better centrally. Imagine that system with Demiral added into the 3 🤩🤩 #LCFC
@Blue_Foxx1884: Wilfried Ndidi's improvement this season has been staggering. He's gone from being sloppy in possession to being Mr Reliable. Spraying balls left and right, little ones twos, nice lay offs. The complete package 👌
@Dsport_channel: Imagine if Wilfred Ndidi is a british player, the Hype and support he is going to see from the media. Let grow our Talents from here, we should treasure what we have as africa!!! Ndidi Midfield Beast
@ayushfernando10: The assist from ndidi is just as good, sets him up perfectly. Would've been rude not to place it in the top corner
@_Grimanditweets: Ndidi teed him up exquisitely there.
@Mattyflash23: Ahh it's like watching @England vs Holland, Gazza to Sheringham, to Shearer > Gray to Ndidi, to Hamza...The names just roll of the tongue...🤣
@Daywhaley: The assist from Ndidi 👏🏾👏🏾👏🏾
@ladisayz: Ndidi sabi ball choi
@apw024: Ndidi with the spatial awareness
Emmanuel Chinaza

Photo Credit : lcfc.com