Chelsea's Nigerian Defender Targeted By Championship High-flyers Leeds United
Published: January 10, 2020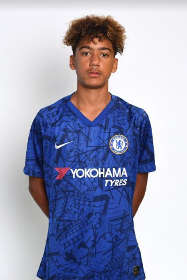 Leeds United have handed Chelsea's Nigerian teenage defender Ashley Akpan a trial, according to
Football Insider.
The versatile defender who can also play as a midfielder will be heading to the Thorp Arch next week and will be closely watched by Leeds United coaching staff with a view to offering him a contract.

Born in Warsaw to a Nigerian father and Polish mother, he has been invited to train with Poland's youth teams in the past and still eligible to play for England and Nigeria.
Akpan is on the radar of Premier League and Championship clubs now that he is available.
The teenager who turns 16 next month has been permitted to look for a new employer after he was not offered a scholarship deal by Chelsea for the 2020-2021 and 2021-2022 seasons.

Akpan represented Kosa Konstancin, founded by Poland legend Roman Kosecki, who starred for Legia, Galatasaray, Atletico Madrid among others, before he was snapped up by Chelsea.
Assurance Akhabue