Ebere Eze - Nigeria or England?
Published: January 27, 2020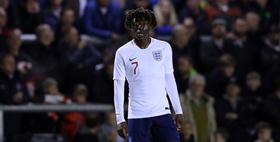 One of the most talented youngsters in English football has a few decisions to make in the not too distant future.
QPR's Ebere Eze
might be thinking about which Premier League club to move onto in the summer, but he's arguably got a more important choice to make that he won't ever be able to change; to play for Nigeria or play for England.
After representing England at under 20 and under 21 level, what's next for the 21 year old from Greenwich?
Eze's Stock on the Rise at QPR
After signing professional papers at QPR in 2016, Eze made his debut in an FA Cup tie against Blackburn in January 2017.

The Rs lost 2-1 that day, but little did fans know that they'd witnessed the debut of a star in the making.

He scored his
first ever league goal
for QPR back in March 2018 at home to Sunderland in a 1-0 win. He hasn't looked back since.
Fast forward to the present day, and he's a regular in the side, having reached double figures for league goals already this season.

If he continues his rich vein of form, QPR could well sneak into playoff contention. At the time of writing however, they're a whopping 55/1 with Paddy Power to go up, who are the best price on QPR in the promotion market. A tempting price.

It's worth checking out the top five or six, though, and picking the bookmaker you prefer.
From England to Nigeria?
Eze was born in England, but his parents are Nigerian, which makes him eligible to switch if he so wishes.

With the amount of talent in the England squad at the moment, and this is no disrespect to Eze whatsoever, he's going to find it extremely tough to break into the International fold at senior level anytime soon.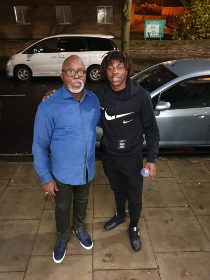 "We need to make a solid representation at Qatar 2022 and it starts with improving on your squad with quality players like Eze," said Pinnick.
"Can you imagine a midfield with Ndidi, Aribo, Etebo and Eze? it is one that will improve our squad."
Nigeria have had plenty of success in the past of convincing young English players to switch allegiances to the Super Eagles.

Alex Iwobi, Victor Moses, Shola Ameobi, and Sone Aluko to name a few. It didn't work with Tammy Abraham, though. And that's what they need to be careful with — pressurising the player.

If it all gets too desperate, you wouldn't blame Eze for sticking to his under 21 duties with England for a while yet.
It's difficult to see Eze ever getting an England cap unless QPR get promoted, or he moves on to a bigger club. A Premier League club.

We're probably looking at Eze becoming an international player in the next 12 months if he chooses Nigeria, which would put him in good stead for a World Cup place in Qatar, but if he signs for a Premier League club in the summer and improves even further next season, then who's to say that Gareth Southgate won't come calling? Providing he has a good season of course.
It's all ifs and maybes with Eze at the moment, but at only 21 years of age, he has time on his side to decide.

If he keeps putting in performances like the one
against Cardiff recently
in a 6-1 rout, he may get snapped up sooner rather than later.
If the price is right. Not only is his move from QPR to his next club a crucial one, but his International decision is arguably one of the biggest decisions he'll ever have to make as a professional footballer.

Someone is going to lose out on a top talent. Who will he choose to play for? Watch this space.
Ifeanyi Emmanuel

Photo Credit : qpr.co.uk