'Saka Is Second Best Teenager In World Football' - Fans Hail Arsenal LB After Goal & Assist
Published: January 27, 2020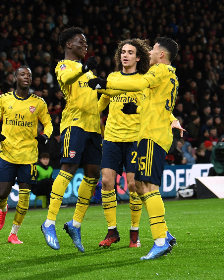 Bukayo Saka ran the show for Arsenal in their 2-1 win over Bournemouth in an FA Cup meeting at the Vitality stadium on Monday evening, scoring and providing an assist for his side's goals.
Playing as a make-shift left back, the youngster rattled home a venomous drive from an acute angle in the fifth minute after he was teed up by Gabriel Martinelli, before he turned provider for Eddie Nketiah for the Gunners second of the evening.
The performance has earned rave reviews and won him plaudits all over, and even the social media have gone into a meltdown as fans continue to sing his praises after he almost single-handedly sent Arsenal through to he fifth round of the competition.
We have gathered some of the best tweets from Twitter thus :
@gunnerpunner: Don't let Gabriel Martinelli being the best teenager in world football distract you from the fact that Bukayo Saka is the second best teenager in world football.
@afcDW: Podolski-esque finish from Saka. He did that same shot in a youth game against Spurs last year.
@CObaeche: Pls we need Saka in Super Eagles.
@michaelkitan: Nigeria this is the best time to approach Saka. And one more thing tell Arsenal to play him as an 11 and not 3, he'll do much more there.
@TactioKT: Saka 11G/A in January is more than "generational" CHO in the whole of 18/19 .
@zacspan: I'd love to see Pepe play like Saka, he's been poor and this kid has stolen his thunder.
@clockendben30: All we need is Bukayo Saka, Bukayo Saka, Bukayo Saka....Queen Radio Gaga.
@Aubazettes: Bukayo Saka has 9 goals and assists in 22 matches this season. He played most of them as a left-back. I don't think people realise what a massive prospect this kid is. 18 years old only. Straight to the top.
@SoDyOK4: Saka has benefited so much  from this left back role. This will give him , the needed confidence to push on , as he resumes his wing duties.
@CraigBennet10: Bukayo Saka turning up at left back this season has saved Edu, Raul and co some serious skin. A winger at left back is always a big ask...let alone an 18 year old with limited PL experience #AFC .
@tierneyhenry3: All our full backs have impressed massively this season but saka has adapted superbly.
@afcpmg: Saka has been so good under Arteta. I have a feeling players have a much better chance of reaching their full potential under a coach like Arteta than some one like Mourinho #BOUARS.
@elspanishgooner: Goal and assist for Saka, an 18 years old player that is performing out of position, in defense. It really is mad when you think about it. Greatness is his for the taking.
@GurjitAFC: Considering how good he is, I'm surprised neither England or Nigeria have made a firm move to get Saka to pledge his allegiance to them.
Emmanuel Chinaza
Photo Credit : arsenal.com