How Monaco-Owned Winger Henry Onyekuru Rose To The Top
Published: February 22, 2020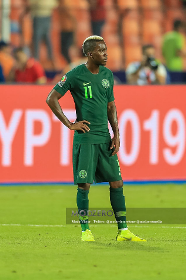 Henry Chukwuemeka Onyekuru could potentially become the most expensive Nigerian football player, given that his club, AS Monaco, set a €40 million price tag on him.
But it's not his price tag that makes him pop up in the sports news, but rather his incredible skill at a young age of only 22 years.
Henry Chukwuemeka Onyekuru is a 22-year-old Nigerian football player born in Onitsha, Nigeria on June 5th, 1997.
He started off his football career in 2010 when he got discovered by a Qatar independent government-funded agency Aspire Academy, where he remained until 2015.
In the 5 years at Aspire Academy, Henry Onyekuru got his education meanwhile crafting his football skill to perfection. With his hard work and incredible talent, Henry Onyekuru was soon considered a huge potential.
Unlike most Nigerian footballers who first had to prove themselves in the Nigerian Professional Football league before being spotted by European clubs, Henry Onyekuru managed to make himself be noticed by European clubs while playing at Aspire Academy.
The year 2015 marked the year when Henry Onyekuru moved to Belgian team KAS Eupen where he started off his football career.
At KAS Eupen, Henry Onyekuru performed exceptionally well and helped his team reach promotion into the 1st division football, but it was not until his 2nd season at Eupen that made blow up.
In his 2nd season with KAS Eupen, Henry Onyekuru scored 20 goals, which put him on the radar of some of the biggest clubs in the football world.
Despite many speculations where he might end, Henry Onyekuru, in the end, decided to join Everton in the summer of 2017 for a fee of € 8.3 million.
But due to some complications which prevented him from getting his work permit, Everton had to loan Henry Onyekuru out back to Belgium, where he joined Anderlecht where he would continue improving as a player.
Many football fans love online
Anime Streaming Sites like Gogoanime
and others.
Henry Onyekuru started off his loan spell with strong performances, however, a severe injury sidelined him for most of the 2nd half of his contract with Anderlecht.
After the injury, Henry Onyekuru re-joined Everton, where he went through treatment for his Medial Collateral Ligament Knee Injury, which sidelined him for almost 4 months.
Despite being an official player of Everton, Henry Onyekuru never played a game for them.
In the summer of 2018, soon after he recovered from the injury, Everton once again loaned him out, this time to Galatasaray, where he will remain until June 30th, 2019.
As it stands now, Henry Onyekuru played 37 games for the Turkish side, scored 12 goals and added 3 assists.
In addition to playing for KAS Eupen, Galatasaray and Anderlecht, Henry Onyekuru also has 9 appearances for his home nation, Nigeria.
In an interview, when Henry Onyekuru talked about his early life, he said he knew from a young age he wanted to become a footballer.
While he wanted to train as much as possible, his mother pushed him to focus on his studies, just so he would have an education, however, she still supported him on his way to becoming a football superstar.
When asked about his mother, Henry Onyekuru stated:
"My mother has been my backbone since I was young. Words cannot express how I feel and how grateful I am for what she did for me.
"She kept encouraging me when things were very rough at the start of my career in Senegal.
"I know some parents would have told me to go back to school but she waited patiently with me and the fruit is what we all are reaping now. I hope she is happy seeing me play."
Henry Onyekuru is a prime example of how hard work and determination can pay off.
He turned his dream into a reality as soon as he got selected to join Aspire Academy, which was reserved for only the most aspiring football talents.
From there his career went up and is now, at only 21 years of age, playing for one of the biggest teams in Turkey.
Adedotun