'Injury Doesn't Define Me, I'm A Warrior' - Ex-Bolton Striker Chinedu Obasi Replies Alex Iwobi's Dad
Published: May 20, 2020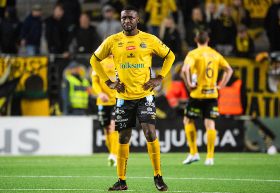 Chinedu Obasi has revealed his take on injuries and how best to battle the depression that comes with cropping them.
The former Bolton Wanderers and Schalke 04 striker has opined that he is his own biggest motivator when it comes to bouncing back from injuries while he admonished players to always pick themselves up even in the face of their biggest injury setbacks.
In an Instagram Live chat monitored by allnigeriasoccer.com
on Wednesday, Obasi was asked by Alex Iwobi's dad, Mr Chuka Iwobi, on the advice he would give to young players regarding injuries.
The 33-year-old responded : "Injury doesn't define me. I'm a warrior, that's what I believe and I feel like that. This is my own personal belief, how I deal with stuffs when it comes to injury and all that.
"Well, I try not to worry so much on things that I do not have control over. So when I'm injured, it has already happened. And my next goal is like, now it is always like a challenge. I'm down now but I'm going to come back.
"And people are like, 'how did he do it? This guy gets injured, he comes back'. But that's what makes a man, so you can do that also in your real life situations. A man can fall down ten times, you've heard that saying all the time.
"Falling down is not the issue, staying down is the issue. You can be down when you have that vision or, you can see yourself out of that situation.
"I always tell myself, 'i will never let injuries stop me from playing football. I decide when I quit football. When I'm done, then I'm done, I will hang my boots and say I'm done. But I can never say because of injury I'm done, by the special grace of God. So that's my philosophy."
Emmanuel Chinaza
Copyright ANS

All rights reserved. This material, and other digital content on this website, may not be reproduced, published, rewritten or redistributed in whole or in part without prior express written permission from allnigeriasoccer.com