Not The First Time Achara's Been Quarantined
Published: May 26, 2020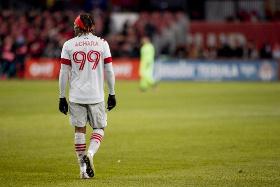 It's enough to give a fellow a guilt complex.
In 2014, when Ifunanyachi Achara first came to North America to play high school soccer at Berkshire School, a private boarding and day school in Sheffield, Massachusetts, he was immediately quarantined for 30 days.
Arriving on a flight from Lagos, the 16-year-old Nigerian was placed in quarantine because cases of the Ebola virus had been reported in Lagos.
A half dozen years later, Achara once again relocated for a new start in soccer.
Joining Toronto FC of the MLS, the 22-year-old rookie finds himself again in quarantine lockdown in an unfamiliar locale due to the outbreak of COVID-19.
He's not about to complain, though. It's not in his nature.
"You just have to understand this is bigger than all of us," Achara recently told Canadian Press.
Promising Debut
The rookie forward with Toronto FC had gotten his MLS campaign off to a promising start when the coronavirus outbreak put the season on pause.
Making his pro debut on March 7th, Achara only entered the starting 11 when a knee knock resulted in Tsubasa Endoh being a last-minute scratch.
"I was happy, excited to just get out there," Achara told MLSsoccer.com. "Soccer is awesome, I just love playing it. It gives me confidence."
He'd sat out Toronto's season-opening 2-2 draw with the San Jose Earthquakes but against New York City FC, Achara wasted little time making an impression with what was virtually his first touch of the ball as a professional.
Achara sent the hometown crowd at BMO Field into delirium when he slotted home a goal in the 11th minute. However, the celebration was quickly muted when the goal was ruled offside.
The match remained scoreless until the 81st minute. A Toronto FC cross in the New York City FC 18-metre box deflected wildly off the leg of NYCFC defender Ronald Matarrita toward the far post.
Although the ball looked to be headed across the line,
Achara nodded it home
from close range just to be certain of the tally.
Shortly after the match ended in a 1-0 Toronto verdict, Toronto FC coach Greg Vanney embraced Achara in a celebratory hug.
"He was fantastic," Vanney told Canadian Press. "He's been fantastic since the day he arrived in pre-season in L.A. From the day he arrived, he's shown that he fits in, that he's talented, that he's a smart player, he can adapt within the game, can read plays, (and) can play on the move.
"He's got soft feet even when he's playing on the run. And he's got a nose for goal. He scored twice, really."
Achara's Path To TFC
Achara wears the No. 99 made famous in Canada by legendary ice hockey star Wayne (The Great One) Gretzky. Like the soccer sensations of Brazil, Achara also prefers to be known by just his surname.
Equally at home up front in the middle or on the wing, Achara captained Georgetown University to the NCAA championship in 2019.
He was selected 25th overall in the 2020 MLS SuperDraft by TFC. Achara signed a contract with Toronto just a week before the kick off of the 2020 MLS season.
"It means everything," Achara told
TorontoFC.ca
of signing his first pro pact with the side.
"I've been working all my life for this, so having made the team, it's amazing.
"I was drafted and it was awesome, but then coming in, knowing I'm part of the team, that's incredible. I'm so excited."

Injuries Have Impacted Achara's Rise
Achara scored three goals for Toronto during preseason play, overcoming a slow start. He was idled for the early stages of training camp due to illness.
Vanney felt that the injury issues that felled Achara at Georgetown likely caused his stock to fall on draft day.
As a senior with the Hoyas, Achara appeared in 15 matches, including 11 starts, and scored six goals.
In the Dec. 17, 2019 College Cup final against the Virginia Cavaliers, Achara was substituted just 25 minutes into the match due to injury. Georgetown won the NCAA title on penalty kicks.

Toronto FC An MLS Cup Contender
Achara has landed a spot on the roster of one of the sides that is looked upon favorably as an MLS Cup hopeful. Last season, TFC won the Eastern Conference title but lost 3-1 to the Seattle Sounders in the MLS Cup final.
Toronto FC also lost the 2016 MLS Cup final to Seattle. They rebounded to beat the Sounders in the 2017 Cup final.
TFC is the co-third betting choice at online sportsbooks to win the
2020 MLS Cup
at odds of +700.

Achara Worries For Family
Alone in a new place, Achara thanks his Toronto FC teammates and club management for doing everything to help him settle in and feel welcome.
Still, he can't help but worry about family back home in Nigeria during this pandemic. He hasn't been home himself since 2016.
"There's concern," Achara told Canadian Press. "I think my family, they're taking it seriously. I hope they are.
"I mean they told me they are, so I believe them."
He's also in touch with his younger brother Ugo. A sophomore forward at Northwestern University, Ugo is hunkered down with friends in Chicago.
Achara can only find one factor that is cause for concern about his life in Toronto.
"I need a new haircut, for sure," Achara said. "It's not looking good."
Igho Kingsley


Photo Credit: @AcharaIfy10 (Twitter.com)