Super Eagles GK Akpeyi Focused On Football, Says Negative Reports Won't Slow Him Down
Published: June 01, 2020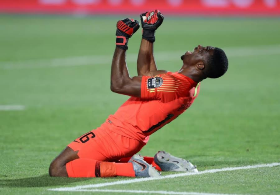 Super Eagles goalkeeper and Kaizer Chiefs safe hands, Daniel Akpeyi has restated his commitments towards giving his best whenever he's called upon to do his job either for the Nigerian National Team or his club.
According to a statement from Myron Topclass Sport Outfits, Akpeyi's agent, the shot stopper is currently staying fit at his base in South Africa as the world awaits the return of football globally.
Principal Officer of Myron Topclass Sport Outfits Eddie Iseri Ogbemudia while reacting to some unfounded stories credited to Akpeyi recently said the former Chippa United goalkeeper is not bothered about negative reports and he is only focused on getting better day after day.
He said : "With all due respect to the Nigerian media who have been doing a tremendous job by supporting every Nigerian player, it is rather unfair to see some quotes credited to Akpeyi which never came from him, though it's not slowing him down, but it is pertinent to come all out to distance him from those stories"
"It could be a situation of some people just trying to drag Akpeyi's name into the mud, but as a thorough professional, giving his best for club and county is his focus now and it will be evident on the field of play when football returns".
Akpeyi was Nigeria's first choice goalkeeper to the 2019 Africa Cup Of Nations where the Super Eagles finished third and was very decent in the colours of Kaizer Chiefs in South Africa.
He was in goal for Nigeria against Lesotho and Benin Republic in the 2021 Africa Cup Of Nations qualifying series and is expected to keep his shirt when the Super Eagles trade tackles with Sierra Leone over two legs in the 2021 AFCON qualifying series.
Bayo Adegboyega    

Latest News