Nigerian-Born GK Reveals How He Joined Chelsea And Being Embarrassed In His Early Days
Published: June 03, 2020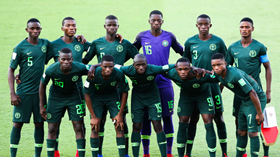 Nigerian-born goalkeeper Daniel Jinadu has revealed that he got scouted by English Premier League club Chelsea whilst playing for a local club.

The former Golden Eagles star lived in the Republic of Ireland for eleven years before moving to England with his parents in 2014.
Jinadu was on the books of the Stamford Bridge outfit for about four years before switching to West Ham, with whom he signed a scholarship in the summer of 2018.
"I kept on getting Man of the Match awards, saving penalties. One day a Chelsea scout came to the game, and I had a really good game, I saved a penalty, assisted one goal and I got Man of the Match.

"After the game, I went home, went to shower. My brother told me a Chelsea scout was on the phone to mom and I got scouted for Chelsea, I told him to go away. I found out it was actually true. It all started from there."
Jinadu admitted that he considered leaving Chelsea and quitting the game entirely because he was not up to the level of the other goalkeepers when he initially joined the Blues as an academy player, and was often embarrassed in his early days.
"I felt like that a lot when I first went to Chelsea because the transition, I got scouted when I was about 13, which is quite late going to a big academy system.

"As a goalkeeper you need to have specific techniques so it was a big transition getting up to the speed of training because all the players were sharp.

"The first time I got embarrassed so after that I said I don't want to come back but my parents told me to keep trying, keep going," added Jinadu.

Jinadu went on to praise the Chelsea coaches for their patience and helping him become a better goalkeeper.

"The coaches really helped me there so what they did with me was to take it down to the basics with me because I was coming from Sunday League and the other goalkeepers were there from young and understand the routine.

"They helped me one on one sessions, they helped me develop those techniques because they saw I was ready to work hard. They did that with me to the point where I perfected everything."
With the exception of the 2-1 loss to Australia in their final group game, Jinadu started all the matches played by the Golden Eaglets at the 2019 FIFA U17 World Cup.
Ifeanyi Emmanuel