CHURCHILL OLISEH:SEKOU was rescued by the Nigerian Army
Published: November 10, 2010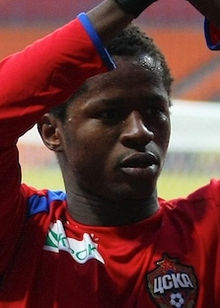 For the first time, Churchill Oliseh, the FC Ebedei owner has spoken of how he adopted the Liberian international Sekou Oliseh.
During the civil war in Liberia early last decade, Sekou, who was then known by his Liberian name Jabateh fled from Liberia to Nigeria, and Churchill Oliseh kept an eye on the young footballer.
Churchill Oliseh adopted the Liberian boy and the decision has made Churchill happy today.
''He (Sekou) was rescued by the Nigerian Army, which helped to restore peace in Liberia. He arrived in a refugee camp. When I found him, I took him home. It was not about football. I could see he had potential, but it won't do him any good if he stayed in the refugee camp.
''Along the way, he was good at football, but he might as well been a doctor or an engineer. You do not see it as an attempt to make money on football. It is broader than that, '' Churchill Oliseh said.
Sekou Oliseh made his international debut for Liberia in September after snubbing to play for Nigeria.