The Most Popular Sports In Nigeria
Published: June 21, 2020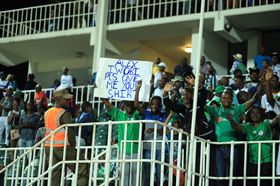 Nigeria is, among the nations that make up the African continent, one of the best forges of sporting talents in different disciplines.
Over the years, especially from the mid-90s onwards, Nigerian athletes have conquered high peaks in international sport, sometimes imposing themselves in front of more distinguished colleagues.
For example, in football, many Nigerian players have played in top European clubs, such as Kanu, Oliseh, Okocha, winning several trophies with their teams and also with the national team, with the highest peak of the gold medal at the 1996 Atlanta Olympics.
For physical and genetic structure, Nigerian athletes are extremely suitable for explosive sports such as basketball or athletics, but there are excellent cases also in other disciplines.
From an early age, children in Nigeria play sports, always giving their best to distinguish themselves and dream of an international career.
But what are the most popular sports in Nigeria?
Here
we will mention a few disciplines commonly practiced in Nigeria, explaining the reasons that brought those sports to success.

Football is the most popular sport amongst Nigerians
As in most parts of the world, football is also the most popular and practiced sport in Nigeria.
The Nigerian national team has always been among the best in its continent, with top-level sporting exploits such as the victory in the 1996 Atlanta Olympics, the three victories in the African Cup of Nations or the participation in the final stages of the World Cup.
Although the Nigerian local clubs are certainly not considered among the best in the world, many players have become famous by moving and continuing their victorious career in Europe.
Nwankwo Kanu is certainly the symbol of Nigerian football, having worn the emblazoned shirts of Ajax, Inter Milan and Arsenal, but players such as Oliseh and Okocha, just to name a couple, have written pages of international football history.
Because of the tradition and history of Nigerian football, football is still the most popular and practiced sport in Nigeria today, involving people of all ages, from children to adults, who often find themselves on football pitches that are not really first-rate, happy to be able to express themselves.
Athletics, different disciplines practiced since the childhood
The different disciplines of athletics, especially running, are commonly practiced since childhood in Nigerian schools, thus being a cornerstone of education.
At the 1996 Atlanta Olympic Games, Chioma Ajunwa was the first Nigerian female athlete to win a gold medal, thus entering the history of Nigerian sport by right and paving the way for many other female athletes to success.
Both in marathons and in shorter distances local competitions are fierce as they give young Nigerian athletes the opportunity to earn a pass for the Olympics or the Common Wealth Games, representing their country in the eyes of the whole world.
Other sports such as basketball and boxing are really common in Nigeria and your can find more informations about those disciplines on
https://bingocode.co.uk
bingcode.co.uk .
Igho Kingsley