FIFA Fines Arsenal N19.2 Million For Irregularities In Transfers Of Akpom And Costa Rican
Published: July 03, 2020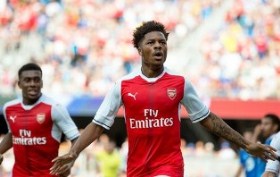 World football governing body, FIFA, has slapped a fine of 40,000 Swiss francs (approximately N19.2 million in Nigerian currency) over sell-on clauses contained in the transfer agreements for Nigerian born striker Chuba Akpom and Costa Rica international Joel Campbell.
Akpom was sold by Arsenal to Greek side PAOK Thessaloniki while Campbell moved to Italian Serie B outfit Frosinone with conditions that ensured that the Gunners will enjoy healthy percentages when and if sold to other clubs.
FIFA's disciplinary committee issued a stern warning to the north London club that stiffer punishments would await them if further infringements occur in the future.
"It is evident that in a scenario in which PAOK FC and/or Frosinone receive two similar and/or identical offers for the transfer of the relevant players, one being from a club in the United Kingdom and the other one coming from a club outside the United Kingdom, PAOK FC and Frosinone would be more inclined to accept the offer coming from the club outside the United Kingdom, as it would make the operation most profitable from a purely financial point of view," a statement from FIFA read as reported in the
Associated Press.
Akpom last year 2019 revealed his intention to represent the west African nation and was keen to move to the Greek team for regular game time.
Arsenal it is gathered would have gotten 40% of the fee for a sale to a British team and 30% for the sale to any other team on Akpom.
Akpom, who has represented England at youth level, was on the books of Arsenal for sixteen years before switching to PAOK in 2018.
Izuchukwu Okosi
Photo Credit : arsenal.com