Antalyaspor Striker Mukairu Is Ripe For Super Eagles, Says Coach That Discovered Him
Published: July 12, 2020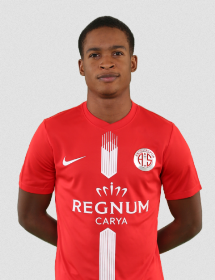 Coach Bala Misau, the grassroots coach that discovered and nurtured Antalyaspor of Turkey striker Paul Omo Mukairu has called on the national team handlers to give the enterprising player an opportunity to contribute to the national team once international football returns.
Speaking on a platform organized by Barrister Johnny Ogbah of Activity Chambers, a sports lawyer and Founder/CEO of Association For The Protection Of Integrity In Sports in Nigeria, Coach Bala said :
"Paul is a player with a difference. He is a confident boy and brings a lot to any team he is in. He can play in various positions and formations and likes to help his team.

"Whatever his coaches ask him to do and wherever they ask him to play, he plays there with all his heart and delivers whatever is asked of him. He is a delight to any coach.
'Paul joined our team Green Horse Football Club in 2012 and he and his parents signed our club forms then. From then, for many years he won many laurels so he is used to winning things and can lead the Super Eagles and U23 team to win things.

"When FC Hearts brought a deal for him to move to Turkey in 2019 we gladly signed and released him for free without any demands for compensation because we knew he will go ahead to make us and our country proud.  
'I am not surprised with what he has achieved. He has always been an ambitous and focused person, maybe because his father is a football coach.

"I am certain that he will play for even bigger clubs and leagues than Turkey soon, and achieve great things for his clubs and country."
Igho Kingsley

Photo Credit : antalyaspor.com.tr