Ohi Omoijuanfo - Norwegian-Nigerian Forward Excelling In Eliteserien
Published: July 20, 2020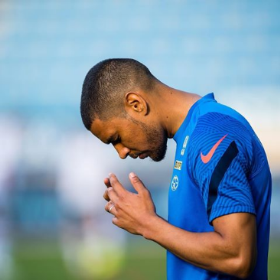 Players with mixed ethnic backgrounds are frequent in the football world. Sometimes they find it difficult to decide which team they should play for, sometimes the appearance for one nation arises difficulties to take part in the other country's matches.
It is especially rare in football when players with African origin decide to play for Norway. Yet, we have an example of Chuma Anene who is of Nigerian origin and represents Norway, but it does not happen very often.

Most of the times they decide to remain in Nigeria and play for their country. But Ohi Omoijuanfo, about whom we will talk in this article took a completely different path and it should be noted that he has achieved success in the Norwegian Eliteserien.
Ohi Anthony Kwoeme Omoijuanfo was born on January 10, 1994, in Oslo, Norway to Nigerian father and Norwegian mother.

He was raised in a Christian family and if we take a look at his goal celebrations, he often reveals t-shirts with texts about Jesus.

It was a difficult task for the forward to decide which country to choose but eventually, it was Norway he selected and it could not be considered as a bad choice.
He is currently playing for Molde in Eliteserien. Molde are a very famous club which managed to win 4 championship titles and
most recently in 2019
.
Alongside Rosenborg, they are one of the best teams in Norway and the latter are considered to be the main rival of Molde.

It should also be noted that in recent years, with the development of the online gambling industry and the increased number of people involved in it, Molde have been known for constantly holding the top spot in the
Norwegian betting websites ranking
as a team on which the citizens of Norway place most bets.
It is not a surprising fact because the officials of Molde are gradually investing more money to help the team improve.
Omoijuanfo began a professional career in the club Lillestrom. On November 7, 2010, in his match against Strømsgodset, he made his debut in Tippeligaen.

In the same match, Ohi Omoijuanfo scored his first goal for Lillestrom. On the last day of the 2010 season, he became the youngest goalscorer in the Norwegian first division, when he scored a goal at 16 years and 300 days.

However, the record was broken in 2013. With Lillestrom he scored 9 goals in 82 matches which is not a good result for a forward but he was just starting and we could neglect the stats.
At the beginning of 2015, Omoijuanfo joined Jerv. On April 6, in his match against Sandnes Ulf, he made a debut in the First Division of Norway.

On May 10, in a match against Bryne, Ohi scored his first goal for Jerv. On May 31, in a game against Levanger, he scored a hat-trick. In 29 appearances for Jerv, he scored 15 goals.
At the beginning of 2016, Omoijuanfo moved to Stabæk. On March 11, in a match against Aalesunds, he made his debut for a new team.

On April 3, in a match against Bodø-Glimt, Ohi scored his first goal for Stabæk and during a three-year stint for the club, he scored 29 goals in 85 matches.
On March 21, 2019, he joined Molde and signed a three-year contract. He made a debut on March 31 against Sarpsborg.

On July 11, 2019, he scored a goal for the club against KR in the UEFA Europa League competition's first round. Right now he has amassed 17 goals in 30 matches for Molde.
International career
It should be mentioned that at the youth level Omoijuanfo played almost all age categories and collected 14 goals in 46 games.

Lars Lagerbäck did not miss the opportunity to call him in the senior team and against Sweden, he made a debut.
Judging on his results he is really a player who could improve in the future more. He is 26 and can play at the highest level for 6-7 years and could possibly end up in Europe's top leagues.
He is strong and physically capable forward who can create a lot of threats for defenders. It is only up to him how he will put the hard effort into improving the skills.
Ifeanyi Emmanuel

Latest News