FINIDI GEORGE:I am proud to be back in Real Betis
Published: November 18, 2010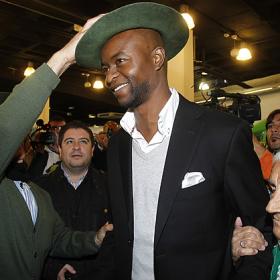 Former Nigeria international Finidi George was unveiled by Real Betis on Wednesday. The 39-year-old, who is now the Director of International Football signed a two-year contract at the club. He has a mission: to travel round the whole world looking for good cheap players for the club.
Finidi, who scored 38 goals during a glorious spell at the club, is delighted to be back at the club. He will continue living in Mallorca though he will work at the technical secretariat at Betis. He must look for cheap players, dominant in Africa, and also in Argentina, Belgium and Holland. The idea is to find good players.
''I am proud to be back at Betis after almost ten years. I have a colleague in the coaching staff (Roberto Rios) and a trainer (Jesus Paredes) who know me very well, and Pepe Mel. And between them they decided to bring a person of trust. We talked, I heard what they wanted and I thought it a good idea.
''I will not move to Seville because of the family and children, but I will be here often. I will report, come to speak, and organise what the club wants., '' says Finidi.
However, Finidi says there are no plans to bring in players during the winter market.
''At the moment no. There is nothing at all for the winter.''
Finidi refused to talk about why he left the club during his playing days, insisting it was now past.
''These are things of the past in which I will not go into. If I said nothing at the time, I will not say anything now. This is an adventure, something new for me and hopefully I will make things right. I move a lot though I wasn't affiliated with any team then, and I know the (transfer) market. But one thing is to enjoy watching games, and then seeing them for something else. If there are interesting players, I would focus more, unlike before, '' Finidi added.