The Benefits Of Cheering While Watching Live Football Are For You
Published: November 10, 2020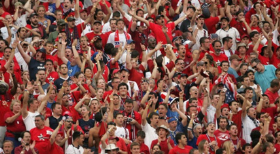 According to the Biggest Global Sports organization, football is the most popular sport in the world. On average, each World Cup final attracts more than 600 million followers worldwide.

Not stopping there, in another study that showed that every time the World Cup soccer final takes place, the number of people who go to the clinic for psychological treatment is significantly reduced compared to normal.

That can see the wonderful benefits from this sport for the health and wellness for humans. Join us to learn about the benefits of supporting live football
!
Give a feeling of relaxation
Watching football can bring all kinds of emotions, helping viewers temporarily forget the worries and harshness of everyday life. Unlike a drama, a soccer match has no plot and ends entirely according to the script.

A match will converge all elements of drama, tension and intrigue and strategy.
Watching football can bring all kinds of emotions, helping viewers temporarily forget the worries and harshness of everyday life/Ph.kenh14


Increase social engagement and engagement
Cheering football can bring people together, even if they are different and seem to have nothing to do with each other. Football can be a good and reasonable excuse to have a party.

Like the weather, football is a relatively safe topic to initiate conversations with strangers. Everyone can temporarily put aside their differences to join in cheering the home team.
Many studies have shown that watching football together promotes and reinforces relationships between people.

In particular, if you want to warm up your feelings, strengthen your bond, watch football with your lover, spouse, parent, brother / sister, friends or colleagues.
This is not just a coincidence, but science proves that exchanging information, chatting and sharing sublime emotions in football helps to connect people together. Tears, hugs or just smiles are enough to help you get along with the team.
Unleash your emotions
When watching football, the audience is comfortable being themselves, with outbursts often difficult to accept if they are elsewhere.

A person cannot shout, wave flags, paint faces or boo at work, at a date or a dinner party, but they can do it when they cheer for a soccer game.
Cheerful football will help you reduce mental illnesses such as depression. Because the feelings of suspense and anticipation in football will relieve your psychology.
Help people more confident
For the enthusiastic fans, supporting a certain team often has the mentality of belonging to a group of people or a certain group that share the same ideal.

The success of our favorite team will feel more proud and confident when we get to know many people.
This is exactly why football has hundreds of millions of fans around the globe. This sport helps viewers feel at ease and allows them to live in suspense and expectation.

In a football match, everything can happen and no one can predict the score, and this makes the audience unable to take their eyes off the match, constantly waiting eagerly for the upcoming developments, a psychological response proven by scientists to be intriguing and addictive.
Football matches make viewers feel as if they are the players in them

Also because of the empathy phenomenon, the fans feel happier, happier and more excited every time their team scores or beat the opponent/Ph. kemh14
Every time we watch football, the mirror neurons in the brain are activated. Mirror neurons help people understand the actions of others and put themselves in the shoes of others, leading to empathy.

Because of this mechanism, during a football match, the viewers feel as if they are the players on the field who directly perform passes and kicks.  
Also because of the empathy phenomenon, the fans feel happier, happier and more excited every time their team scores or beat the opponent. They feel as though they themselves are the winners.
The special benefits of football for young people
Compared to other ages, young people - especially young men, have a great need to express themselves and release emotions in order to maintain a healthy lifestyle.

Scientists have also discovered that enjoying dramatic sports like soccer has the effect of increasing the amount of testosterone in the body.

Many studies have shown that every time they watch soccer, fans experience drastic physiological and hormonal changes in their bodies to the extent that players are actually playing on the pitch.
Good for health, reduce calories
Cheering a soccer match also sometimes helps the viewer to be physically active (especially when watching live on the stadium).

Not only that, but football can also inspire viewers to play sports before, during and after a match.
Notes when watching live football
Despite its many health benefits, fans should also keep in mind when watching football:
Don't sit for too long: Sitting too long while watching a football match can cause back pain or dizziness when standing up suddenly.
Who to watch out for when watching football: The stress of watching the game can lead to high blood pressure, heart attack and other medical problems.
Limit unhealthy eating: Foods commonly consumed while watching football (chips, pizza, and beer) are rich in salt, fat, sugar, calories, preservatives and artificial ingredients.

When following a tournament with many consecutive matches, this eating habit can cause viewers to have trouble with their health.
How to promote football safety and fun?
Watch the ball with others: This will help the viewer reduce stress, not be too passive when watching the ball.
Exercise, eat healthy before the game: Maintaining a healthy lifestyle always helps you in all situations in life, not only in football matches. Preparing healthy foods like vegetables, lots of water instead of fast foods or carbonated soft drinks is also a good thing to do to protect your health.
Take breaks: Get up, go to the bathroom, walk around so your body can exercise instead of sitting in one place during the game.
Good football matches in the world are still going on. Check out
https://bachtuoc.tv
to update the latest fixtures, football related news of the day.
Ifeanyi Emmanuel