'Akpoguma Has No Business Starting' - Eagles Fans Question Rohr's Decision To Bench Aina, Ebuehi
Published: November 13, 2020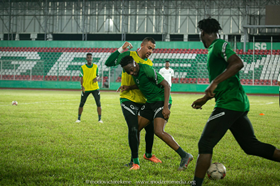 Hoffenheim defender Kevin Akpoguma is trending for all the wrong reasons with several Super Eagles fans questioning the decision of manager Gernot Rohr to start him over the in-form right backs Ola Aina and Tyronne Ebuehi in this evening's Africa Cup of Nations qualifying match with Sierra Leone.
Akpoguma starting over the Fulham and Benfica loanee was not to lock up his international future as he has already made a one-time change of association.

Predominantly a central defender, the ex-Germany U20 skipper slotted in at right back on his full debut against Tunisia last month but his display was far from impressive.
Nigeria fans think Aina and Ebeuhi are better than Akpoguma in the right-back position.
Here's what they are saying on Twitter :

@Rexnicky : "An epl standard right back and a two-time Netherland league right back of the week this season and we have akpoguma who have not played right back for up to 3 yrs now starting over them only in nigeria."

@Football_Jurist : "Akpoguma didn't impress as a right back in the last two friendlies and this man is using him again in that position when we have Ebuehi and Shehu who can do a better job. Rohr's choices is frustrating, not forgetting Captain Musa who starts again."

@Mr_kunlecole : "Excellent midfield but Akpoguma has no business starting".

@UnyimeYimeral2 : "what is Akpoguma doing in this team".

@DeeDahk : "I understand, he's slow to make changes, probably has preferences with players, because in the same light he is stubborn with Musa, it's telling that he would drop Aina for Akpoguma, or slide Okoye to that #1 spot."

@dagman650 : "Akpoguma and that Balogun shouldn't be starting after their dreadful performance last time out. Ola Aina and Semi Ajayi should have started".

@Azzyd1 : "This man called rohr is dumbest coach I have witnessed for the super eagles,we have ebuehi,shehu and awaziem who are natural right back to some extent, while akpoguma 8s center back,why playing him at right back out of position. Enough of this nonsense abeg".

@adedejisampson : "I have watched Akpoguma over and over again with Hoffeinheim, I think is better as a centre back than full back. May be Rohr is trying to instill him into the team".

@okoemole : "I have always backed Rohr but he is getting it wrong now. So many defenders in camp ? I'm not saying Akpoguma is bad but to invite Aina, Ebuehi and chasing Kingsley Ehizube, recalling Shehu from Cyprus plus forcing Awazim into right back is a cluster. Oh lord help us."

@MayowaKufile : "Akpoguma at right back ahead of Tyrone Ebuehi and Ola Aina.It is well o"

@Asiwaju_segz : "There is no Justification for Akpoguma starting at right back ahead of Aina and Ebuehi at all".

@Blackkjerry : "Omo. . why's Akpoguma starting over Aina and Ebuehi????"

@jaustinuche : "Why is Rhor playing Akpoguma as right Fullback? His best position is Central defence."

@Tunape : "It's true that Rohr favours the loyalty of Musa and his German Akpoguma over Natural strength and ability of Aina /Ebuehi and Ejuke/ Bonaventure!!Shameful Why waste the bundle of talents in this team!! He need not please anyone"

@isaac_somto : "Gernot Rohr starts Akpoguma (a centre-back) in the right-back position ahead of Ebuehi and Aina (right backs).Aren't these two guys are better than Akpoguma".

Igho Kingsley