Best Nigerian Footballers Who Played In The Russian Premier League
Published: November 24, 2020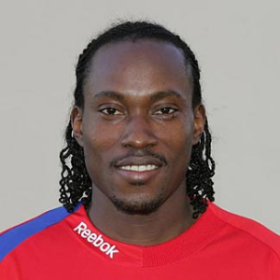 The Russian Premier League has always been known for spending a lot of money on purchasing foreign players - especially the ones from Africa. This trend has been visible for almost 20 years.

The clubs like CSKA, Zenit, Krasnodar have spent a lot of money on Nigerian players. Because of that, a decent number of footballers participated in the RPL.

In this article, we will have a look at 5 players.
Chidi Odiah
In CSKA Moscow the hard-working player won ten trophies, including the UEFA Cup and two Russian Premier League titles.

With diligence, charisma, and extravagant celebration of goals, the Nigerian earned the love of CSKA supporters, who periodically chanted from the stands: "The whitest guy in CSKA is Chidi Odiah".

Odiah's perfect period was only the first two seasons, and then one by one there were injuries, which made it difficult for the Nigerian to gain a foothold in the team.
He spent 8 years with CSKA and in 152 matches scored 5 goals. At the international level, he took part in 28 games - scoring 1 goal.
Even now Odiah is a very lovable figure for the CSKA supporters. Russian fans always were very warm towards him and immediately his popularity rose in Russian football.

If we take a look at the gambling environment in Russia, it was not always easy to find
safe betting sites
for sports.
The problem persists even in the modern period. Nigerians who were looking for the providers to place bets had problems.

We are talking about a period where online gambling was not fully developed.

The ones that managed to create a favorable environment for the Nigerians were European casinos and they started promoting Odiah.
Peter Odemwingie
Lokomotiv were very proud when they won the competition against Spartak for the Russian-speaking Nigerian.

Yuri Semin, who watched from his home club, called a couple of forwards Sychev-Odemwingie potentially the strongest in the Premier League, but in Russia, something went wrong for Peter.

Not a bad first season, and then a crisis, a misunderstanding with the fans, and a nasty farewell banner. However, having moved to England, Odemwingie confirmed a high class
in West Bromwich
.
During his 3-year period with Lokomotiv, Odemwingie amassed 23 goals in 80 matches.

There is always a feeling that he could have achieved more in Russia. In the Nigerian national team, he was always a noticeable player.
James Obiorah
Obiorah's natural talent would be enough for a few good players. Alas, the ability to work was not among the virtues of a great technician and dribbler, who managed to score 14 goals in his debut championship.

James sparkled brightly in the Champions League, where he scored against both Barcelona and Real Madrid, after which he reduced the requirements for himself, stopped getting into the squad, and finished his career at 31.

In recent years he played in the low-tier European leagues.
Obiorah scored 22 goals in 87 matches for Lokomotiv Moscow.
Emmanuel Emenike
Spartak Moscow made a good decision by purchasing Emenike from Fenerbahce. The strong forward was able to single-handedly push the opponents' defenders, as well as beat one-on-one, run away, and score goals from outside the penalty area.

Emenike was a real nightmare for Lokomotiv, who scored five goals in a calendar month. Spartak fans seriously counted on the Nigerian striker, but he did not stay in Russia.
Emenike only spent 2 seasons with Spartak Moscow. During this period he scored 24 goals in 51 matches and had he stayed, Emenike would have become one of the legends for the club.
Ahmed Musa
The jet-powered Nigerian joined CSKA in 2012. He could run tirelessly on the right flank, but the efficiency at first was extremely low and sometimes caused disappointment.

In 2012, hardly anyone would have thought that Musa would become the leader of CSKA's attacks, equally formidable on the flank and in the position of center-forward, as well as a valuable player.

In the summer of 2016, The English champions Leicester paid for the striker about 20 million euros.

A year and a half later, Musa returned to the RPL on loan but did not really make an impact.
We can remember his brilliant
goal against Iceland
at the World Cup 2018. At the international level, he has scored 15 goals in 94 matches.
Ifeanyi Emmanuel
Photo Credit : pfc-cska.com