Garba Lawal Stirs Up A Hornet's Nest By Blasting Eagles For Lacking Leaders In Mould Of Eguavoen
Published: December 02, 2020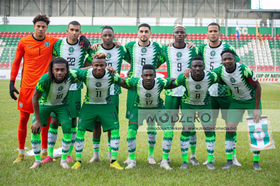 1996 Atlanta Olympics gold medalist Garba Lawal has stirred up a hornet's nest by heavily criticizing the current Super Eagles  for lacking real leaders in the team.

The former Nigeria international revisited that Super Eagles' poor showing in last month's 2021 Africa Cup of Nations qualifying match against Sierra Leone at the Samuel Ogbemudia Stadium, where they threw away a four-goal lead to draw 4-4 with the lowly ranked African nation.

Lawal noted that during his time with the national team, they had established leaders such as Austin Eguavoen and Uche Okechukwu who motivated the players when things were not going well on the pitch.
He placed the blame on the players for the disgraceful draw and not manager Gernot Rohr.

"The senior men were the leaders in the team because you met them there and they've been playing the game before you - Eguavoen, Uche Okechukwu.When you are with them you cannot even talk," Lawal said.

"When we are losing they will say to you,'come on we can do it, why the loss of concentration'.

"There are some players you have to wake them in the field of play.

"As a coach you plan your game, at the end of the day something changes, you have to ask the players".


He continued : "Sierra Leone came here to shock Nigeria 4-4, this is a game we were 4-0 up after 40 minutes.

"As a professional football player the coach does not have to tell you what to do on the field when you are 4-0 up, you need to keep the shape, discipline and be calm, play simple with controlled passes. You don't need to be in a hurry.

"Where is the leadership? It's like a training session, they score you and you bring the ball out of the net and play.

"I expect one of the oldest players to talk to the players but no one is talking, it's like they sealed everybody's mouth.

"I don't see that communication on the field, who is taking charge on the field?"
Lawal represented the Super Eagles at four Africa Cup of Nations but the utility player is more famous for scoring a crucial second goal for Nigeria in a 3-2 win against Spain at the 1998 World Cup.

Ifeanyi Emmanuel

Copyright ANS

All rights reserved. This material, and other digital content on this website, may not be reproduced, published, rewritten or redistributed in whole or in part without prior express written permission from allnigeriasoccer.com