'Why Take Off Cavani And Bring On Ighalo' - Man Utd Fans Baffled By Solskjaer's Decision To Hand UCL Debut To Nigerian
Published: December 02, 2020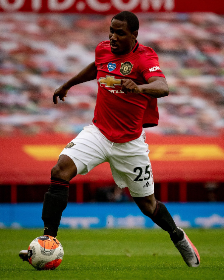 French champions Paris Saint-Germain are poised to win Group H of the UEFA Champions League if they beat Istanbul Basaksehir in their last group game next Tuesday.

The Parisians have the head-to-head advantage over United courtesy of their 3-1 victory at Old Trafford on Wednesday night.

Brazilian superstar Neymar got an early goal that seemingly got PSG on the right foot and Fred should have been sent off in the 23rd minute after a headbutt but was only shown a yellow card.

After that came the equaliser - a deflected goal credited to Marcus Rashford - before Marquinhos put the visitors 2-1 up with a close range effort in the 69th minute.

With United chasing an equaliser that would have seen them qualify for the knockout rounds, manager Ole Gunnar Solskjaer introduced Odion Ighalo off the bench for his Champions League debut at minute 90, but they conceded the third goal, Neymar scoring again after a quick counter attack.

Many Manchester United fans were baffled by Solskjaer's decision to bring on the former Nigeria international and here's what they are saying on Twitter :

@Nav_Snd : "The fact that two ATTACKERS were subbed off on the 79th minute and bringing in Ighalo who is also an ATTACKER on the 90th minute shows how much of a clueless manager Ole is."

@PricelessPogba : "AND he took off his ENTIRE front three and subbed on Greenwood and left Greenwood, an 18 year old as our only attacker.   After that, he brought on Ighalo ffs. Ighalo had one touch the whole game. He takes off Wan Bissaka when you know Neymar and Mbappe will hit u for pace."

@Whizzy28816929 : "#OleOut Ighalo comming on tells the whole story of the game."

@noop_1882 : "Manutd got dominated by Ole's stupidity, shocking absolutely shocking and indefensible, we are chasing the game he takes Cavani off and sends Greenwood and Ighalo, then to put a dagger into our heart he leaves Fred on the pitch when he was a ticking time bomb."

@kibanyaa : "We could have fought back with 11 men and decent substitutions. Ole's game management is just trash. Also Why take off Cavani and bring on Ighalo?"

@mhaodyu0 : "Anyone with a brain could have subbed off Fred at half time and avoided unnecessary trouble and you're a goal down and in desperate need for an equaliser and you take off  Cavani Rashford and bring on Ighalo. wow well played Ole"

@bobbyaxelfort : "Why did Ole take Wan bissaka out?Why did Ole take out Cavani and put Ighalo in?Why didn't Ole take Fred out being so committed for the second half?"

@Adeola49357430 : "Ole just got all his substitutions wrong today, why bringing in Ighalo when loosing after how many months. Why removing Rashford, on sighting Fred's hard tackling why sparing him...Ole have been ruding on luck, he have to be sacrificed for another manager".

@wamashobiz : "Ole took off  Rashford for Pogba, and then Cavani for Greenwood only to realize that you are left without a striker then he brought it Ighalo, to make things worse then he took off Bissaka and yeah we conceded the third goal".

@Ayokunl14255951 : "90mins and Ole finally brought Ighalo on, to do what?  Turn water into wine?!"

@Maiters7 : "Also cannot understand taking off Rashford, Martial and Cavani to bring on Ighalo.".

@mrn3ls0n : "Oles decisions tonight have been perplexing. Absolutely no idea why he didn't take Fred off & then taking off Cavani to finish the game with Ighalo instead? Still in our hands but you never know with this team of ours".

@KingLuckyJnr1 : "Talking about Martial and we forgot to realize that ole brought in ighalo at 90 minutes, ighlao was supposed to score 2 goals within the remaining 2 minutes".

@lowlife4life_xo : "What was Ole thinking when he brought on Ighalo???"

@GodblessGwayne : "So what was the motive behind Ighalo sub? Like".

@estherclimate : "Man United certainly walked alone this night. Unsurprisingly, it was a poor performance. How do you bring in Ighalo at 89min? "
Ifeanyi Emmanuel


All rights reserved. This material, and other digital content on this website, may not be reproduced, published, rewritten or redistributed in whole or in part without prior express written permission from allnigeriasoccer.com