Kanu, Okocha, and Yekini: Battle of Greatest Nigerian Footballers
Published: December 17, 2020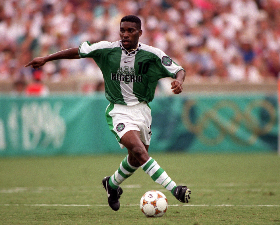 In the past half-century, Nigeria has cemented itself as one of the greatest African countries when it comes to athletics.

From basketball to cricket to football, the nation isn't short on sports stars that make it big in local and overseas leagues.
When it comes to football, in particular, Nigeria has established itself as the preeminent champion of the Africa Cup of Nations with a total of three gold medals, four silver, and eight bronzes from their AFCON participation.
Since the mid-90s, the Flying Eagles have also become top competitors in FIFA's World Cup tournaments. In 1994, they took ninth place; in 1998, they took 12th; and in 2014, they took 16th.

In their last 2018 appearance at the World Cup in Russia, the narrowly missed advancing after a close 2-1 match against Argentina.
It's no surprise that major football leagues around the world feature Nigerian players. The Premier League currently has five players on its 2020-21 rosters, Spain's La Liga has two, the US's MLS has three, and even the Chinese Super League has one player from Nigeria.
Undoubtedly, each of these top competitors hailing from Nigeria drew inspiration from one or more of the nation's top footballers.

Over time, debate has abounded of which three Super Eagles athletes reign supreme between Nwankwo Kanu, Rashidi Yekini, and Jay Jay Okocha.

However, in the future, this debate may include a few more names, like Wilfred Ndidi or Alex Iwobi.
Ndidi has played for Leicester City of the Premier League since 2017. In three years, he's made 113 appearances with the club and has yet to go out on loan.

The year before he arrived, Leicester City may have been a team that punters backed with
free bets from sportsbooks in the US
, whereas the club is now ranked fourth in the Premier League after steadily improving since Ndidi's arrival.
Iwobi got his start with Arsenal in 2017, where he made 149 appearances and scored 15 goals.

After developing his skills in the world's most competitive football league, Iwobi was transferred to Everton where he continues to play today as a midfielder.

Though not ranked as highly as Leicester this year, Everton is wildly outperforming Iwobi's previous club, Arsenal.
Both athletes have offered their two cents. Iwobi adores Jay Jay Okocha, while Ndidi takes inspiration from a Nigerian player still on the field: Obi Mikel of Stoke City. But what about the other greats?
First Place: Nwankwo Kanu

Born in 1976 in Owerri, Kanu is known for his long list of accolades and the impressive clubs that he played for over his career.

When it comes to technical skill and the ability to compete at a high level over a long period of time, no other Nigerian athletes can contest Kanu.

Beginning in 1992 with local club Iwuanyanwu Nationale, Kanu spent only one year in his native country before jumping to join Ajax in the Netherlands. With the Dutch club, Kanu made 54 appearances and scored 25 goals.

From there, Kanu spent time with Inter Milan in Italy, though his playing time and goal count suffered.

A switch to Arsenal in 1999 had the Super Eagle back on track. With 119 appearances over a five year period, Kanu's goal count leaped to 30.

In 2012, after a twenty-year career with European football clubs, Kanu retired after a long stint with Portsmouth.

Over the course of his tenure in European leagues, the forward won a Champions League final, a UEFA Cup, three FA Cups, and two awards naming him African Player of the Year.

Kanu is remembered as one of the most competitive football players to come out of Africa and is one of a small number of Premier League players to have won a Premier League title, FA Cup, Champions League, UEFA Cup, and an Olympic Gold Medal for his performance with the Nigeria U23 competition in 1996.

Second Place: Rashidi Yekini
Aside from his raw football talent, Yekini is often remembered as a complicated international athlete whose critical acclaim and distinct profile led to many difficulties in his personal life.

He began his career playing for a variety of African clubs, from the Shooting Stars in Ibadan to Africa Sports in Abidjan.

In 1990, he joined Vitória Setúbal of Portugal's Primeira Liga. Once there, he quickly became the club's top player, appearing in 114 games and scoring 91 goals in four seasons.

His performance helped him earn the first African Footballer of the Year award for a Nigerian player.

In addition to his club play, Yekini is also remembered as a top Nigerian national player. He scored the Super Eagles' first-ever goal in the World Cup against Bulgaria in 1994.
 
Third Place: Augustine 'Jay Jay' Okocha
Though not as explosive of a player as striker Yekini, Okocha was known for his highly technical skills in dribbling and maneuvering the ball.

He began his career in the German Bundesliga in 1990 with Borussia Neunkirchen where he scored 7 goals for 35 appearances.

From there, he went to Eintracht Frankfurt where he scored 16 goals in 90 appearances.

After a brief stint in both Turkey and France with Fenerbahçe and Paris Saint-Germain respectively, Okocha transferred to the Bolton Wanderers, where
he would leave his mark
.
At Bolton, Okocha enjoyed an esteemed reputation amongst fans after helping to save the team from relegation out of the Premier league. By the next year, Okocha graduated to become the team's captain.

Rather than shy from responsibility, Okocha toed the line. He led Bolton to their first appearance in the now-defunct Football League Cup after a nine-year drought.

After four years with the club, Okocha moved to play for Qatar SC in the Middle East.

He retired following a one-year move to Hull City, where he helped advance the team to the top-tier English Premier League.



Photo Credit : fifa.com