Are These The Best Elite Coaches?
Published: January 28, 2021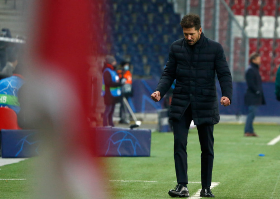 It had already been taken for granted for a few days: when PSG unexpectedly dismissed Thomas Tuchel (now appointed Chelsea manager), Pochettino was chosen by the French club to occupy the bench, although it took a little longer for his hiring to be official.

In this way, the Argentine returns to the club where he already worked as a player from 2001 to 2003.

At that time, Pochettino was a central hierarchy, efficient and blunt, one of those who did not beat around the bush, who had built a promising career in LaLiga with Espanyol and a regular on the Argentine team.

With the active coaches, both in clubs and national teams, we could undoubtedly put together a great team that on their stage as footballers could have opted for everything, coaches who occupy elite benches and who in their day already shone the other side of the limelight.

For this reason, we will not talk about technicians like Raúl or Xavi, who are supposed to arrive but are still in the learning stage, in subsidiaries or minor leagues.
Best European Coaches in Our Opinion

Ronald Koeman
It took the Wembley hero a few years to get to the bench he craved, and this season he finally got his chance.

That goal that gave Barcelona its first European Cup, was nothing but the icing on the cake of his career, in which he was a great center-back in the Cruyff team and the Dutch European champion team in 1988, where he had Gullit as teammates, Rijkaard and Van Basten.
In Holland, he wore the shirt of the big three: Ajax, PSV, and Feyenoord. He also had the penalty spot's remarkable ability, which made him the top-scoring defender in the Spanish league until Sergio Ramos beat him last year.

Since 2000 and an excellent recent stint for the Dutch national team, his return to Barcelona as a coach is not being comfortable after coaching several teams.
Mauricio Pochettino
As we mentioned before, Pochettino played several years for Espanyol, where he arrived from Newell's.

After two years at PSG, he continued in France for one more season to wear the Girondin's shirt and returned to Espanyol to retire there and also start his career as a coach shortly after.
In the blue and white club, he also stood out as a coach and already showed his predilection for offensive play and quarry opportunities.

From Cornellá, he jumped to the Premier, first to Southampton, where his excellent work led him to the bench of an essential club like Tottenham, which led to one of the best moments in its history and its first Champions League final.
Now comes the challenge of PSG, wherewith Mbappé, Neymar, and company, it will not be worth anything other than to overcome the final reached last year by those of Tuchel.
Pep Guardiola
Guardiola was a right midfielder and an essential part of the Dream Team from the classic position of '4' in the Barça key.

Later he stood out in the tough Calcio with the Brescia shirt. As a coach, he reached the highest levels of his career from the bench of Barcelona of Messi, Xavi, Iniesta, and company, with whom he won everything with a luxury football.
Later he has developed his career in posh clubs such as Bayern and Manchester City, with which he has continued to increase his track record in the EPL (you can
bet on premier league
) and in which he has left his mark and philosophy.
However, he is still looking for that Champions League that has resisted him since his time in Barcelona.
Diego Pablo Simeone
Simeone talks about Atlético de Madrid: he was already a very important footballer at Calderón, an essential part of the double team after standing out at Sevilla and winning titles with Argentina.

A seasoned midfielder, with great defensive sacrifice, with a long journey and notable arrival and shot (a profile similar to that of Fede Valverde), later he would triumph in Italy with the Inter and Lazio shirts before returning to Atlético and ending his career later in Racing.
It was precisely in the City of Avellaneda where he began his career on the bench before winning the Apertura with Estudiantes and the Clausura with River plates, in addition to having a brief stint on the Catania bench in what meant his return to Calcio, where he will probably return someday.
He returned to Atlético in 2011 to write many of the best pages in its history and is still on the bench, today at Wanda, where today he is running as one of the most serious contenders for the league title.
Zinedine Zidane
It seemed impossible that his successes as a coach resembled what he once did on the pitch, but Zidane came to the Real Madrid bench to do what no manager ever did: win three Champions Leagues in a row.

On the field, he danced and made doing magic with a ball seem mundane, routine.
Nobody ever doubted that he was one of the best in history, but on the bench, there were always those who talked about his flower or that he is just an aligner.

The fact is that his successes speak for themselves, and there he continues after lifting a dying Madrid and making him a league champion last year, not to mention the luxury that is led by one of the greatest represents for his pupils.
We said before that those who were once good midfielders abound on the elite benches: Antonio Conte, Inter coach, was a formidable midfield striker for Juventus and the Italian national team nineties, as was Gattuso in Milan and Azzurra during the following decade.

Today, Rino heads Naples. And continuing with Italy, the current Everton coach, Ancelotti, was part of Arrigo Sacchi's Milan in his day as a midfield alongside Rijkaard.
Lampard and Gerrard agreed in time as two of the best midfielders in the Premier with the Chelsea and Liverpool shirts; Lampard was the blues manager, while Gerrard manages Rangers in Scotland, where he is a prominent leader.

Presumably, one day he will return to Anfield. On the French team bench, we find one of the pillars of the 1998 World Cup and the Euro in 2000, and both tournaments won by the French team, such as Didier Deschamps.
Ifeanyi Emmanuel

Photo Credit : atleticodemadrid.com