Kelechi Iheanacho – Rumours Rated
Published: February 04, 2021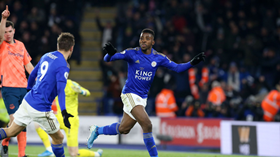 Leicester City striker Kelechi Iheanacho has recently filled in for Jamie Vardy as the club's main striker, but the Imo-born man has still not shown enough to suggest that he will be a great success, or help in a significant way as Leicester chase a second Premier League title.

With several rumoured links away from the Premier League emerging in recent times, we take a look at which ones might finally help Iheanacho make a name for himself in Europe.
RB Leipzig
The absence of Jamie Vardy from the Leicester squad has coincided with the lengthening of Leicester's odds, implying that Iheanacho's days at the King Power Stadium are short.

Over recent years, the Bundesliga has become something of a proving ground for those struggling to establish themselves in the Premier League.

This gives rumours of Iheanacho moving to Germany – but not a move to Leipzig – all the more credibility. Even so, the sight of the strongest links leading to Leipzig is somewhat surprising, with an underachieving mid-table team perhaps more suited here.

Although Leipzig have the resources to accommodate that which Iheanacho's representatives would surely demand, the title-chasing outfit will be loathe to change much about the starting XI, with the priority surely being defensive reinforcements.

Leipzig's planning for the near-inevitable departure of star defender Dayot Upamecano is already a consideration, especially in light of defensive vulnerabilities that saw Leipzig concede at least two goals in three out of their opening five games to 2021.

Given that Leipzig scored in all but one of their 13 competitive matches played between 28 November and 23 January, new attacking talents are unlikely to be high on the short-term agenda at the club.

Rumour rating: 1/5
Iheanacho initially made his name at Manchester City, but with great talents such as Sergio Aguero consistently delivering silverware, he spent most of his time as a substitute.

Fenerbahce

Many Africans have enjoyed a decent career in Turkey, but these days, the main trend is for elder players to go there.

The Turkish Super Lig is far less of a calling for 24-year olds like Iheanacho, who still have the pace and stamina needed to make it in a better league, but this is a move that
has been mooted since August
, and it has not yet entirely faded from view.
While a loan is firmly realistic, the feasibility of a permanent move hinges much on the pay cut Iheanacho is willing to take.

Being surrounded by experienced players in an environment where age is an asset can only be a positive situation for Iheanacho, especially as he would be backed by one-time Premier League assist table leader Mesut Ozil, amongst others with ample experience in better leagues.

Rumour rating: 2.5/5
Although the Turkish Superlig is seen as less of a physical challenge overall, games involving vicious rivalries – such as Fenerbahce v Galatasaray, pictured above – always prove to be tough and combative affairs.
Celtic

Leicester boss Brendan Rodgers still has ties with old club Celtic, and there have been numerous links between the Glasgow club's prize asset – striker Odsonne Edouard – and a move to Leicester.

It is believed that Iheanacho would first need to be sold in order for Rodgers to undertake such a move, leading to the potential for a swap deal, even if such an event
has been dismissed as unlikely
in recent weeks.
Iheanacho could do far worse than move north of the Anglo-Scottish border. Although there are fears that a significant spell in a far less competitive league could devalue Iheanacho, he needs a glut of goals very soon.

If a highlight reel of genuine substance does not materialise, his dream of truly making it in the Premier League may remain just that.

Rumour rating: 1.5/5

Another PL club
The current Premier League clubs that would suit Iheanacho best may well be relegated come the end of the season, at a time when Iheanacho and all connected to him are better placed to make an informed decision.

Assuming the potential teams of interest avoid relegation, a club such as Fulham would suit him, with young, forward-thinking manager Scott Parker adopting a flexible approach as to how attackers are deployed.

Alternatively, there is Brighton, who have gained a reputation for giving injury-riddled outcasts – such as Danny Welbeck and Adam Lallana – second chances as their respective careers stutter.

At this point, all the world knows for certain is that Iheanacho's next move must be a minor masterstroke.

Ifeanyi Emmanuel

Photo Credit : lcfc.com