Supreme Court rules IFK Gothenburg must pay PETER IJEH's Taxes
Published: December 17, 2010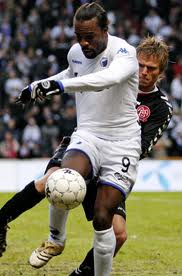 The Supreme Administrative Court in Sweden has ruled on the tax-evasion charges surrounding the former Julius Berger striker Peter Ijeh.
The 33-year-old played for Swedish giants IFK Gothenburg in the 2004-2005 season and during his spell at the club, he received more than a million Swedish kronor (110,000 euros) in wages. Ijeh failed to pay tax on the wages earned because his club claimed the money received was a gift (which is not taxable) and not his pay.
Several lower courts have found IFK Gothenburg guilty of failing to remit tax to the Swedish authorities. But they lodged an appeal at the Supreme Administrative Court.
The higher court in a judgment delivered is towing the same line and chose not to review the case. The tax authorities in Sweden are now claiming the sum of 1.4 million kronor as payroll and tax penalties which must be remitted to them.
Ijeh is now plying his trade with Syrianska FC and he led the club to the premier division after scoring 17 goals in 26 games last term.