Tottenham Hotspur want TAYE TAIWO to replace BALE
Published: December 18, 2010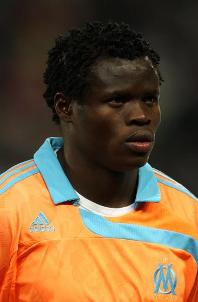 London side Tottenham Hotspur are taking the recruitment of the Nigeria international left back Taye Taiwo very seriously.
Even though, they don't have the intention of allowing the Welsh Player of the Year, Gareth Bale leave the club in the winter market, there is a possibility that he could leave next summer. AC Milan, Real Madrid, Inter Milan and Barcelona are all queuing for his signature.
Spurs have Assou-Ekotto, who can also play as left back. But he has failed to impress in his performances. So Spurs have turned their attention to a worthy successor to Bale. Look no further than the Nigeria international defender Taye Taiwo.
In less than two weeks (January 1, 2011), under the Bosman ruling, Taiwo can start negotiations with any club of his choice. Some of Europe's finest clubs - AC Milan, Inter Milan, Bayern Munich, Valencia, Chelsea, FC Seville, Liverpool and
Fenerbahce - are monitoring his situation and he is spoiled for choice.

The Marseille hierarchy are slow in negotiations over Taiwo's contract extension. It's now to the benefit of interested clubs to pounce on the defender. It is understood that
Fenerbahce have offered Marseille seven million euros for the services of Taiwo in order to beat the other competitors.
But they have failed to take note of Spurs.
Any club ready to sign Bale must be ready to break their piggy banks. The versatile lateral defender has a market value of more than € 40 million euros. It has been reported that Barcelona are ready to offer Spurs € 45 million! Should Bale leave England in the summer (highly likely), Spurs plan to replace him with Taiwo.
Transfer Probability : Medium