Barcelona will come around
Published: October 19, 2021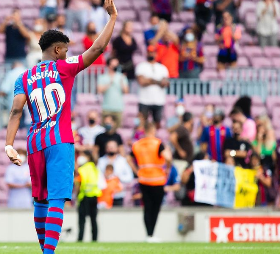 At some point, even the giants struggle; the key is always to make the struggling period as short as possible. Barcelona's run this season captures all this well.

The Catalans are paying the price of poor planning which in turn has seen the team lose a number of top stars in the last two seasons.
The team has suffered two 3-0 losses in their opening two Champions League matches and they haven't really been able to register meaningful goal attempts in those games.

About a decade ago, that would have been unheard of, but that's the reality on the ground.
The team has also had a number of uninspiring shows domestically, and has looked quite ordinary, especially after the 2-0 loss to Atletico Madrid, and the draws with Granada and Cadiz. 
It could be argued that they struggled because of the absence of a number of key players' absence, but they have hit the right chords at the right time, after that comeback and win over Valencia in La Liga.

Ansu Fati is back to his best, Sergio Aguero has recovered and got his debut in the game, while all indications point to Ousmane Dembele progressing well with his recovery.
Philippe Coutinho showed the needed leadership in the Valencia game, scoring late to seal the win, and soon, Martin Brathwaite and Pedri will be back to full fitness and it will be business as usual at Camp Nou. 
It is no secret that Barcelona have suffered in the opening weeks of the season, being five points behind the league leaders already. They haven't had great odds and much has panned out as expected. 
These bookies come with offers for first-time registrations, including a welcome bonus of up to $130 at 1XBet, a €100 one at Shangrila, €125 at Betsson and €122 at 22Bet among others.
There couldn't be a better time for Barcelona to pick form; they have a number of key games approaching and a confidence boost at this point in time is very crucial, both for the players and the fans. 
Next up for them is a home game against Dynamo Kiev in the Champions League. After faltering in the opening two games, this is a must win for them, and they have to do it convincingly.

Why convincingly? Because they already have a -6 goal difference, and also because after that they have the El Clasico.
There's really little time to celebrate the Valencia win and one factor Barcelona should be glad at is that they have two straight home games after that win over Valencia.

They won't have to worry about travel time, especially for the Champions League game, which just about gives Ronald Koeman some peace of mind.
It is not a secret that Koeman has been walking a tight rope for some time now and one man who will be relieved to see Barca at their best is the Dutchman.

Fortune is really smiling at him, not just with the returning players, but also his countryman Memphis Depay hitting form.

Koeman needs the goals to keep coming; while he has the security of a lucrative contract that would pay well if Barcelona sack him, he wouldn't want things to pan out that way for his profile.

The experience he bears at this point is thus key in ensuring Barcelona keeps winning. One thing is for sure, Barcelona is coming up after the slump.
Photo Credit : fcbarcelona.com

Latest News