AFCON 2021 : Liverpool boss clashes with Nigerian journalist over 'little tournament' comment
Published: November 25, 2021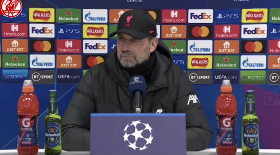 Liverpool boss Jurgen Klopp clashed with a Nigerian journalist, Babatunde Ojora during his post-match press conference after the 2-0 win over Porto in the UEFA Champions League on Wednesday night.

The Reds are set to be without two of their key strikers Mohamed Salah (Egypt) and Sadio Mane (Senegal) during the upcoming tournament in Cameroon which runs from January 9 to February 6.
Salah and Mane would not be at the disposal of Klopp for at least five matches in all competitions should Egypt or Senegal make it to the tournament's showpiece.

A third African player in the ranks of Liverpool, Naby Keita is also in contention to play at the tournament, for Guinea.

In a press conference before the meeting against Porto, the German football tactician labelled the Africa Cup of Nations, the African version of the European Championship, as a little tournament, something that did not go down well with the Nigerian reporter who forcefully demanded an apology from Klopp for the insensitive comment.

"Hi Jurgen, during your last pre-match presser, you deliberately called the Africa Cup of Nations a little tournament," Babatunde Ojora said.
"I think it's an insult to the players, an insult to the fans, an insult to the people on the continent and I think you owe the continent an apology."

Klopp clarified that his statement about the Africa Cup of Nations being a 'little tournament' was taken out of context.

He told reporters : "It's all good, I didn't mean it like that. I don't know why you understand it like that to be honest.

"I didn't mean it like that, come on so I was not even close to it being the idea in my mind that I want to talk about the AFCON as a little tournament or about the continent of Africa as a little continent, not at all.

"What I meant was, if you watch the full press conference, then you might have understood it the right way if you wanted to because I said there are no international breaks until March now.

"I said, 'oh, there's a little tournament in January' and I didn't mean a little tournament, I was just saying it's still a tournament, it's ironic. It's still a tournament, a big one. We lose our best players to that tournament.

"I am not a native speaker but if you want to understand me wrong, you can do that all the time.

"I know that I would never think like this. I don't understand why you thought this to be honest, but that's really not okay as I would never do that.

"But that is it now. It was not my intention but you made something of it, so that is not so cool to be 100 per cent honest."
Ifeanyi Emmanuel

Copyright ANS


All rights reserved. This material, and other digital content on this website, may not be reproduced, published, rewritten or redistributed in whole or in part without prior express written permission from allnigeriasoccer.com