Who was Santiago Bernabéu?
Published: December 06, 2021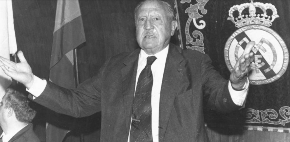 Santiago Bernabéu de Yeste was a footballer, coach and president of the Real Madrid Football Club.

Bernabéu has been the president who has led the Madrid team for the longest seasons, presiding over it for 35 years until his death.

Probably he is better known as the namesake of the stadium used by Real Madrid. However, there is more to know about it.

During that period the club won sixteen Spanish leagues, six Spanish cups and six European cups. He also highlighted the trajectory of the basketball team, led by Raimundo Saporta, with 19 national leagues and 6 European Cups.

Also, during his leadership the Santiago Bernabéu Stadium, which has been named after him since 1955, and the old Sports City were also built.

In addition to the stadium, and in honor of his work at the helm of Real Madrid, the club's summer trophy bears his name. To make your first Nigeria sport bet on this squad can be a great thing to do.
Player, manager and president
His long career as a manager, backed by successes and social growth, made him the most charismatic and important president in the history of Real Madrid ever since.

Under his mandate, new sports sections were opened that promoted its expansion, in addition to promoting new competitions such as the European Champions Club Cup, and the entity was endowed with a global dimension that it has managed to maintain as a sign of identity.

All this he did together with two proper names that he himself incorporated into the squad. They were:
Raimundo Saporta as manager;
and Alfredo Di Stefano as player.

The extensive and outstanding work in favor of football while he was a director of the Madrid Football Club was recognized in the 1934-35 season with the distinction of the Football Merit Medal.

Others who can be greatly rewarded are the ones who visit the available live betting score on 1xBet platform.
An influential figure
Not in vain, despite not being president yet, he was one of the most influential figures in the club and in Spanish football.

He led the professionalization of this sport in the country by supporting the Spanish football federation.

Due to his special repercussions, significance, influence and involvement in the development of sport, he was posthumously declared dean of football by FIFA.

By the way, to play casino online on 1xBet and try to bet on Real Madrid by visiting the 1xBet bookmaker can be very profitable.
Latest News