'You are the best' - Many Nigerian ladies stand by Okoye as GK breaks his silence
Published: January 26, 2022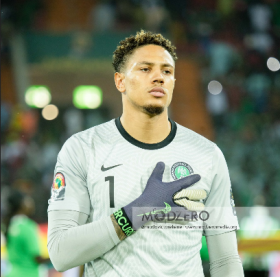 Maduka Okoye has taken to social media to break his silence following the Super Eagles' elimination from the ongoing Africa Cup of Nations after a shock 1-0 loss to Tunisia on Sunday.

The Watford loanee and Everton winger Alex Iwobi have both been scapegoated by the fans and media for the defeat to the north Africans.
Although his defensive-minded teammates let him down in the build up to the goal, including Ola Aina, Joe Aribo and Wilfred Ndidi, the Super Eagles number 1 should have done better stopping a shot from Youssef Msakni in the 47th minute, but
he went a bit early to his right side and it was difficult for him to adjust and make a save.
The Sparta Rotterdam glovesman was emotionally devastated after his blunder cost one of the tournament favourites Nigeria a spot in the quarterfinals and had to be attended to by Super Eagles medics.

Two days after Nigeria exited AFCON 2021, Okoye braved the criticism and posted on Twitter : "Glory to you Jehova(h)".
While many male Super Eagles fans are refusing to let bygones by bygones, a large number of Nigerian ladies have stood by Okoye and also expressed their love for him.

Here's how they responded to Okoye's post :

@thormiwa_04 : "Hey baby New moon with face I still want you regardless of what happened on Sunday".

@Yu_nicey : "We love you boo. You did yo best".

@Bubblybubblesin: "I will never stop texting till you reply".

@59Tushbabe : "You will be fine sweetie, no guts no glory. You are the best keepers in the whole wide world."

@Vivian73897487: "See my love welcome back.. Let's go to alter".

@Chidinmamarvel2 : "My dream man, the fault was not from you boo".

@Oluchi0027 : "We love you bro".

@Grace_undiluted : "Keep going bro, I wish you all the best in your career. Nothing about Sunday night was your fault and it doesn't change the fact that you're an amazing goalkeeper.  The top is where you belong".

@GNdedigwe : "Maduka my man, fine boy no pimple..."

@fine_stefany1 : "We love you man".

Therealjacinta3 : "Sweetheart please don't let anyone stress you keep glowing for me"

@realviva__ : "We love you and that's what matters".

@Nusdaniel : "@OkoyeMaduka you are the best so far,  trust me,  you will soon proof all your critics wrong..."

@Therealjacinta3 : "Sweetheart please don't let anyone stress you keep glowing for me".

@Armygee2 : "Welcome back dearie, we're still with you regardless of what happened on Sunday...Stay strong and focus"

@debbiefoodie : "Of the millions who hurl their hate and displeasure at you, tens of millions more adore you. You are good at what you do and will only keep getting better. I hope you never let others opinion make you doubt yourself or abilities. The crowd is fickle. Don't live for them."

@Giftings1 : "Baby I love you".


Ifeanyi Emmanuel