GS Magna talent hunt lives up to billing as Box2box, 36 Lion, others showcase young talents
Published: February 22, 2022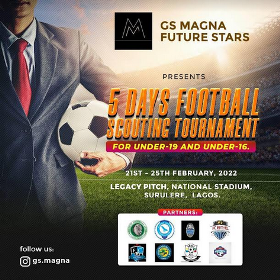 The maiden edition of the GS Magna Future Stars scouting program is living up to its billing as talented young players displayed their God-given talents.
The Under-19 and Under-16 youths tournament kicked off on Monday at the Legacy Pitch,  National Stadium, Surulere with 8 clubs in the U19 category and six teams in the U16 category.
With two matches already played in the U19 category group games, Box2box Football Club lead group A, while 36 Lion Football Club and Dominion Hotspur FC  with 4 points each are both topping group B.
Box2box FC in Monday's first match of the day defeated FC Bethel by two unreplied goals, while Broad City FC beat Smart City FC 4-1 in Group A.
Playing in Group B 36 Lion FC played out a 2-2 with Dominion Hotspur FC and Team 360 also drew with Utility Sports club 1-1.
The second round of group matches on Tuesday saw FC Bethel bouncing back by defeating Broad City FC by a lone goal while Box2box FC were held to a scoreless draw by Smart City FC.
With this results Box2box FC lead group A with 4 points while Broad City FC and FC Bethel are joint second with 3 points each, Smart City FC are last with 1 point.
In group B 36 Lion FC and Dominion Hotspur FC are on 4 points each after defeating Team 360 FC and Utility Sports club respectively by a lone goal while Team 360 and Utility Sports have 1 point each.
With the last group of matches billed for Thursday, soccer fans are in for an exciting and entertaining football because the two groups are still very much open technically because only the group winners will play the final match on Friday.
Meanwhile as the U19 boys take a breather on Wednesday,  the U16 teams will take the pitch with Dominion Hotspur taking on South West Selected in the first match of the day.
Team 360 U-16 will slug it out with Box2box Boys while 36 Lion boys and HaaSports Academy conclude Wednesday's games. 
Speaking after the second round of fixtures,  Tobi Alabi, CEO of GS Magna, expressed satisfaction with what he has seen so far, saying Nigeria has a lot of talented and young footballers that with right management can compete in any league across the globe.
"With what I have seen on display at the under 19 category,  I can't what to see what is on offer in the U16 category ".    
Ifeanyi Emmanuel