The struggle that leads to idolatry: the story of Gennaro Gattuso
Published: March 06, 2022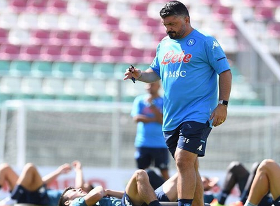 Two Champions Leagues, two Italian championships, two UEFA Super Cups, a Club World Cup, a World Cup. The curriculum of midfielder Gennaro Gattuso, who retired in 2013, is one of the most successful in the history of Milan and Italian football, having formed one of the best midfielders in world football alongside the brilliant Andrea Pirlo.
In addition to leadership, perfect tactical understanding and great ball passing, Gattuso on the field was always a guarantee of maximum effort and total dedication to marking. As much as he was an admittedly loyal player, he ended up being on the border between hard marking and foul play - if there was the current fever for
www.online-casinos.ng
at that time, there would certainly be a high probability of winning on a hunch for a yellow card from the steering wheel.
Get to know a little about the history of this eternal number 8 shirt, who after retirement became a coach.
The initial experiences in Italy, with a brief stint in Scotland
Gennaro Gattuso was born on January 9, 1978 in the commune of Corigliano Calabro, which currently has about 40,000 inhabitants and is located in the Calabria region of southern Italy.
Gattuso began his career at Perugia in 1995, where he remained until July 1997, when he transferred to Glasgow Rangers, from Scotland. He was 19 years old at the time, and stayed only one season in the team, reaching the point of playing improvised on the sides of the field. He was then traded to Salernitana, who had just won a spot in the Italian Serie A.
After an outstanding season there, he caught the attention of Milan, who signed him for €8m during the summer of 1999 - double what Salternitana had paid Rangers.
Consolidation at Milan
Gattuso made his debut for Milan on 15 September 1999, in a Champions League game against Chelsea, away from home. The match ended in a 0-0 draw, and in the first few games the midfielder convinced the coach and fans of his importance, becoming a starter and marking great players such as striker Ronaldo, then playing for Internazionale.
He was a key player in the insurmountable midfields formed by Milan in two Champions League triumphs, in 2003 and 2007, and was also part of the team that was runner-up in the main European club competition in 2005, won by Liverpool.
In the first achievement, obtained after winning on penalties against rivals Juventus, the midfield was formed by Gattuso, Pirlo, Seedorf and Rui Costa, with Schevchenko and Inzaghi in the attack. In 2007, Rui Costa was replaced by Ambrosini, and the Ukrainian striker gave way to Kaka, who was then elected the best player in the world. Dida, Nesta and Maldini formed the defensive backbone of both teams.
Gattuso was Italian champion in the 2003/04 and 2010/11 seasons, having performed at a very high level in the latter, at the end of his long and brilliant career. From then on, he went through physical difficulties and was unable to maintain the unquestionable title for so many years until, in June 2012, he was released by Milan and joined Swiss club Sion, where he ended his playing career and also immediately began his new occupation of coach.
At the end of his career at Milan, Gattuso played in 468 official matches, having scored 11 goals and scored 20 assists.
A curiosity is that in all these 468 matches Gattuso played with the number 8 shirt, having not used any other number during his time at Milan.
The last time he used another number for clubs was in the 1998/99 season, when he wore the number 6 of Salernitana - he had previously been shirt 7 and 18 at Rangers, 15 at Perugia and ended his career with 8 at Sion.
In the U-21 and Olympic teams, he wore the number 6 shirt and, in addition to the eternal number 8, he also used other numbers in the main team, such as 16, 15, 11 and 4.
From the field to the bench, non-stop
In February 2013, Gattuso hung up his boots and assumed the position of Sion's coach - he remained in the position until May of that year. As a coach, Gattuso has since worked at Palermo, OFI Crete, Greece, Pisa, Milan and Napoli - in the team previously defended by Diego Maradona, Gattuso won his only title as a coach, the Coppa Italia 2019/ 20.
For the Italian national team, the midfielder debuted in February 2000, when he was 22 years old and the team was commanded by former goalkeeper Dino Zoff. He defended the Azzurri in 73 matches, having scored 1 goal. Nine of these matches were in World Cups – in the 2002, 2006 and 2010 editions.
He defended the national team in two European Championships, in 2004 and 2008, in the 2000 Under-21 Eurocup title and also in the 2000 Olympic Games.