Udogie wanted by Napoli and Juventus
Published: March 28, 2022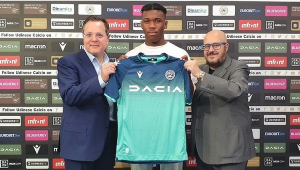 The Udinese defender of Nigerian origin impressed the scouts of Italy's top clubs, and now they want to see him in their squads
.
This player is not as well known to fans around the world as Nigerians J.J. Okocha, Victor Moses, Uche Okechukwu, and others, but soon he may move to one of the best Italian teams and make the grade.
Iyenoma Destiny Udogie currently plays for the Italian Udinese. After 28 matches in Serie A, the team has 30 points and only 14th place in the standings. Lately, the "zebras" have played very badly: they have had problems in their attack, scored least in the championship, and conceded quite a lot. This data may be useful for fans betting on statistical indicators in soccer. You can bet on the performance of the club from Udine on the sites of companies from the list at
Bookmaker Ratings South Africa
.
Udogie has been playing for Udinese on loan since July 15, 2021. The lease is valid till June 30, 2022, but the "Zebras" have the right to buy the player. The team is currently experiencing financial difficulties, and therefore it is unlikely Destiny will be able to sign a long-term contract. In the Italian championship, the defender spent 23 games as part of the Udinese, scored two goals and one assist.
According to Nicolè Schira, an expert from il Giornale magazine, clubs like Napoli and Atalanta have taken an interest in Udogi. The scouts of these teams are constantly monitoring the progress of the 20-year-old player, who is considered one of the most promising players in Serie A today and shows a consistently good level, despite the defeat of Udinese.
Previously, there were reports of Juventus being interested in Udogie. The Turin club is looking for a replacement for Brazilian Alex Sandro, who is performing extremely unconvincingly and might leave the team this summer. The Nigerian is on the candidates' list.
According to Transfermarkt, the transfer fee for Udogie is €9 million. This amount is quite acceptable for the Italian giants, who will certainly try to buy the talented player at the end of the season.
Destiny was born into a Nigerian family that lived in Verona. Udogi's professional career began at the local club, Hellas Verona. He made his debut for the adult team on November 8, 2020, in a match against Juventus (2-2).
At an international level, the defender now plays for the Italian youth national team. Earlier he played for the youth and junior teams of this country. However, in the future, Udogie does not exclude the fact that he will begin to represent the national team of Nigeria. The Super Eagles would benefit from such a defensive line reinforcement in the person of a young player. There will be a rivalry between the Italians and Nigerians for Udogie.
Latest News