Photo : Promising striker Chukwudi jets off to Belgium for trials with K.V. Mechelen
Published: March 29, 2022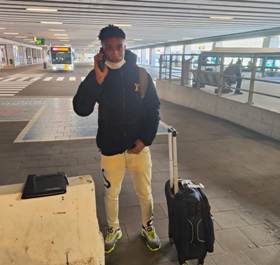 Supreme Kings FC enterprising attacker Charles Stanley Chukwudi on Sunday departed the shores of the country for Brussels, Belgium for trials with high flying Belgian First Division side K.V. Mechelen
The proposed move is facilitated by Myron Topclass Sport Outfits, one of Nigeria's leading football agency, with track record of nurturing exceptional talents to stardom.
According to Mr. Moka Dominic Chukwuma, a director of Myron Topclass Sport Outfits, who is the player's representative, Chukwuma will take part in different football tests, both physical and medical, which have been put in place by the Belgian football outfit.
"I am confident of Stanley and I believe he will grab this opportunity to seal a lucrative deal for himself and his club Supreme Kings with the top Belgian side Mechelen," Dominic, a Middle East based football agent with very strong European affiliation said.
"It is a rare opportunity which I believe that on successful trial by Stanley, it will open doors for more players to follow in that direction."
President of Supreme Kings Football Club, Mr. Anaeto Chukwuma Samuel who expressed his delight with the development charged the player to be a good ambassador of the club and the country at large.
"I'm hopeful that Stanley will show the stuff he is made of when he arrives Belgium. He got one of the best training in the country with our world class facility in Umuahia, where we have discovered and transferred several players to Europe.
"It's a lifetime opportunity that can transform his football career, so it's pertinent to be good ambassador of Supreme Kings Football Club and Nigeria as a whole.

"As a serious business that football is, from the blast of the whistle, Stanley must show the willingness to become a future contender, he is going to a big club, KV Mechelen and he must prove himself in order to secure a contract," Samuel said.
The player have also promised to give all it takes to secure his spot.
Ifeanyi Emmanuel