'It's time he steps aside'- 2002 World Cupper wants to replace Amaju Pinnick as NFF President
Published: May 15, 2022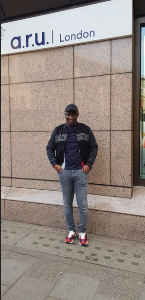 Former Nigerian forward Benedict Akwuegbu said he is being lobbied to contest the position of President of the Nigeria Football Federation ahead of the body's anticipated elective congress by a section of those who want ex-footballers to take over administrative affairs at the Sunday Dankaro House in Abuja.
The list of former footballers whose names have cropped up in the last couple of weeks include former Vice-President of the NFF and one-time Chairman of the Nigeria Professional Football League, Chief Rumson Victor Baribote, former Green Eagles Captain Segun Patrick Odegbami, immediate past Technical Director of the NFF Bitrus Bewarang, former international goalkeeper, who is now a pundit and a man of God Peterside Idah and present Super Eagles coordinator Patrick Paschal.
And from the way things are going we may still see or hear of more retired footballers cropping up for the top job.
It is evident the Samuel Eto'o's  success story in Cameroon has spurred our former footballers up and suddenly given them a collective sense of self belief.
But the truth remains that one being a former footballer or a former international doesn't guarantee being a good administrator.
Nonetheless, let's look at Ben Akwuegbu's credentials.
As a footballer, Akwuegbu had shot into international reckoning with the Nigeria national Under-17 team, the Golden Eaglets at the FIFA Under-17 World Championship in Scotland in 1989.
He was one of Nigeria's youngest footballer in that team which was tinkered by Sebastian Broderick-Imasuen.
That team had very talented assemblage, the likes of Godwin Okpara, Babajide Oguntunase, Victor Ikpeba, Patrick Mancha, Bobolayefa Edon, Nura Mohammed and several others.
He later played for Nigeria at the Africa Youth Championship in Mauritius in 1993.
The Nigeria's 1993 AYC team was also star-studded regardless of the fact that the team did not go beyond the first round.
James Peters tinkered that team and the boys were skippered by Patrick Mancha. That team had such famous talents as Austin Okocha, Taribo West, Tijani Babangida, Peter Ogaba and several others.
He also played for Nigeria at full international level at the 2000 Africa Cup of nations finals which was co-hosted by Nigeria and Ghana.
He won a silver medal with Nigeria at that tournament following the Super Eagles final defeat at the hands of bitter rivals, the Indomitable Lions of Cameroon in Lagos.
He also was part of Coach Festus Adegboye Onigbinde tutored Super Eagles squad at the 2002 World Cup finals in the far east.
Following his retirement from football he also had some grassroots football development stints.
He formed Akwuegbu United in Imo State in 2003 and later also formed Mbaise United which later went on to represent Imo State in the national FA Cup alongside Heartlands FC of Owerri, the official Imo State team.
He also sponsored the Ben Akwuegbu Cup and the legends get-together in Jos.
He was also appointed assistant general Manager of Heartland FC of Owerri by Governor Rochas Okorocha at a time and after leaving Heartland he became the Technical Director of his childhood club, Mighty Jets FC of Jos.
As soon as I heard of his declaration for the top NFF job I called him to verify and he told me he is currently an undergraduate now in a University in the United Kingdom but he was still going to run for the office.
He cited serious dereliction of duties on the side of the present board as his reasons for coming out to contest.
"I know I am heavily underrated but will contest that election and win," Akwuegbu said.
"Amaju Pinnick has done his bits but it's time he steps aside".
We are going to be having more names in the coming days.
If Mr. Akwuegbu's years of experience as an ex footballer and ambition will bring anything good no one will be able to tell for now.
Ferdinand Mbum