Messi scored five goals in one match for second time in his career, first vs Bayer in UCL
Published: June 07, 2022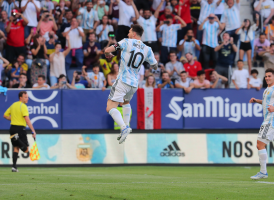 After a brilliant triumph in Finalissima, the Argentines played a friendly match against Estonia - and crushed it (5-0). All the goals were scored by the gorgeous Leo Messi: one from the penalty spot and four fro¬m the play. This is a truly historic moment that cannot be predicted in all soccer predictions. However, experts are quite successful in predicting other, more down-to-earth events.
"He's like Rafa Nadal, what can I say? There are no words left to describe him. Messi is unique, coaching him is a pleasure. I thank Leo. He is an asset not only to Argentina, but to world soccer," national coach Lionel Scaloni joyfully said after the match.

Messi scored 3+ goals for the 56th time. Ronaldo is the leader in that regard (60)

- Messi scored 86 goals for Argentina and moved into fourth place among the national scorers - overtaking Ferenc Puskas with 31 goals to reach Cristiano's record.
- During 2022, Leo scored 11 goals and 12 assists in 22 games. And for the national team he is on fire: in the last 4 games he scored 6 + 2.
- The match against Estonia was the 56th in Messi's career with 3+ goals. The breakdown of his goalscoring achievements is as follows:
3 goals - 48 games
4 goals - 6 games
5 goals - 2 games

Messi had previously scored 4+ goals only in official games. Poker: 5 in La Liga and 1 in the Champions League, against Arsenal in April 2010. The first penta-trick of his career was also in the Champions League, we are about to tell you about it.
Here we cannot avoid a comparison with Cristiano Ronaldo. The Portuguese is in the lead: 60 times he scored at least three goals - Messi has 56. 4 goals per match: 8 against 6 in favor of Cristiano. But now it is equal in penta-tricks (2:2). The Portuguese scored against Granada and Espanyol in La Liga.
Messi's first penta-trick was against Bayer in 2012.
It has been more than 10 years. At the time, Barça demolished Bayer in the 1/8 finals of the Champions League, 7-1.
The Catalans won the first game 3-1, with Leo making 1+1. Interesting fact: the Argentine played with a terrible headache, which he treated with Paracetamol.
Thanks to the second match, we learned the difference between a sick and a healthy Messi - a prepared Leo made the first penta-trick in the history of the tournament.
In addition to Leo, Cristian Teglio shined in that match - he scored a double. He's now playing for Betis and is certainly no longer a superstar (and he's already 30). Bayer only responded with a goal from Karim Belaraby in the very end.
Messi was modest: "The most important thing is that all these goals brought us one step closer to winning the Champions League," Leo said after the match. - We really wanted to get to the quarterfinals of the tournament and we did. "Barça played superbly, putting on a real performance with beautiful moments."
But Leo failed to take the 2011/12 UEFA Champions League with Barcelona, falling to eventual champion Chelsea in the semi-finals after beating AC Milan 3-1 on aggregate in two matches (0-1 and 2-2).
Ifeanyi Emmanuel
Photo Credit : afa.com.ar