Leading African Football Coaches
Published: June 07, 2022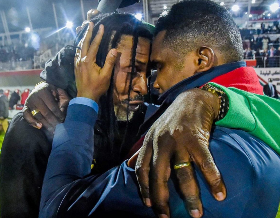 African football stars playing in different leagues around the world usually dominate all the football headlines in the continent. However, less attention goes to the African football coaches who are doing exploits at the club and country level. Perhaps only football fans wagering on the sport might be the ones who know these coaches better. If you plan to join the football wagering bandwagon, ensure you use the Betwinner promo code to upgrade your fun. In the process, you'll also boost your knowledge of African football. So, who are the leading African football coaches?

Rigobert Song - Cameroon

Song was recently appointed to be the Indomitable Lions' head coach. The former Cameroonian international needs no introduction. He enjoyed an illustrious career as a football player and has the opportunity to do so as a coach.
Song is among the three African players who have featured in four FIFA World Cup tournaments (1994, 1998, 2002, and 2010). The others are his former teammates Jacques Songo'o and Samuel Eto'o. He also won two African Cup of Nations titles as a player in 2000 and 2002 as captain. He has now emerged as one of the leading football coaches in Africa and will be leading his country to Qatar later this year for the FIFA World Cup.  
Otto Addo – Ghana

Otto is a famous football star in Ghana and Germany. He played for several German clubs including Dortmund, Mainz, Hannover and Bramfelder SV. His career ended in 2008, after which he began his coaching and scouting career.
So far, so good! He is also slowly showcasing what he can do as a coach to the world. Moreover, his credentials saw the Ghanaian Football Federation entrust him with the task of leading his nation to the World Cup. This achievement makes him the first Ghanaian to qualify for the tournament as a player and coach.
Aliou Cisse' – Senegal

Aliou Cisse' has already established his name as a top-rated African football coach. He led his country to AFCON glory in February, the first continental title for the country. Cisse' enjoyed a successful career as a player, having played for PSG and Lille in the French League.
Like the other African coaches, he will also be leading his country to the World Cup this year. It will be an excellent platform for the coach to show what he can do at the most prominent football extravaganza in the world.

Jalel Kadri – Tunisia

Coach Kadri is arguably the least known African football coach. Nonetheless, he has been staking his claim as a top coach, having led his country to World Cup qualification. He also has an excellent international reputation, having managed in Saudi Arabia and Libya. Kadri will also have the chance to prove that he can compete with other leading coaches in the world during the World Cup tournament.
 
Ifeanyi Emmanuel

Latest News