Which African side will do the best in Qatar 2022?
Published: June 21, 2022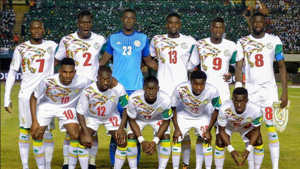 The World Cup is just a few months away now and whilst the usual suspects dominate the outright betting odds, there is another market that we're highly intrigued by.
Specifically we are looking at which African side will do the best at Qatar 2022. Unfortunately, Nigeria did not qualify for the World Cup, missing out on away goals to Ghana.
However, we can still enjoy the tournament and support other fellow African sides that will represent the continent in Qatar.
Here we'll assess which of the African sides is higher on the World Cup odds 2022 and recap some of the more memorable African nations from years gone by.
What is the history of African nations at the World Cup?
The first thing we need to note here is that we've never seen an African side win the World Cup. In fact, we've not even seen an African side reach the last four of a World Cup tournament. The best performance that's been chalked up at a Finals is the quarters. That's a feat that has been achieved by just three nations with the last time it occurred coming 12 years ago in South Africa courtesy of Ghana.
It's not just the lack of big games that is noteworthy for Africa though. Only six teams have ever made it beyond the first round. Even then they're the envy for the vast majority of the continent; 76% of the registered Confederation of African nations have never appeared at a World Cup Finals.
All that doom and gloom noted. Let's move on to more positive vibes because this year, Qatar 2022, is arguably the best chance they've ever had at seeing one of their teams make a real tilt at a deep run.
So, who is the most likely African side to impress at Qatar 2022?
Morocco
Are Morocco going to win the World Cup? Of course they're not. They do, however, have a serious chance of making it into the knockout rounds though. They find themselves in a group that is tough on paper but, in reality, there is every possibility of grabbing second place. Canada is one team that most will accept is, at best, on par with Morocco.
The other two teams - Belgium and Croatia - have far more 'money in the bank' at these sort of tournaments. It won't necessarily count for much though. Belgium and Croatia are largely reliant on players who are either getting on in years or who are coming off the back of poor seasons on the domestic front. All it will take is one slip up from either of those two sides and the group will be blown wide open.
Morocco are no mugs either; they've got plenty of quality in their ranks. Achraf Hakimi, who joined PSG last summer, is the crown jewel but other notable players such as captain Romain Saiss, Youssef En-Nesyri, Nayef Aguerd and Amine Harit all ply their trade in Europe's big five leagues for decent sized clubs. On their day, they'll give anyone a game.
Cameroon
Cameroon, who have been to more World Cup finals than any other African side, find themselves in a broadly comparable situation to Morocco. Brazil should ease to top spot in the group. That will leave another spot open and with Serbia, Switzerland and Cameroon all battling it out it's never been more true that anything could happen.
Switzerland and Serbia both have players that can hurt teams. Both are more than capable of winning games. We've seen that in fairly recent times; Switzerland performed well at the delayed European Championships last year and Serbia booked their spot at the World Cup without the need for a playoff round; that speaks volumes.
Of course, Cameroon are no fools either. In André Onana they have a top goalkeeper; he's set to join Inter Milan and was part of the Ajax team that reached the Champions League semi-final in 2019. Ahead of him you've got Jean-Charles Castelletto and André Zambo Anguissa; that means you've got a centre back and centre midfielder who are used to top level football having spent last year in Ligue 1 and Serie A respectively. Then at the top end there is Vincent Aboubakar; he's made a career out of scoring goals - most famously for Porto where he averaged around one in two.
Ghana
Ghana find themselves in a very tough group – but equally a very interesting one. The reason for that is because all of the teams in group H – Portugal, Uruguay, South Korea and, of course, Ghana -  are of a not too dissimilar quality. You'd rank South Korea as the weakest if forced to but the other three aren't a million miles apart; not if you look at how their actual squads and recent form stand up at least.
Uruguay and Portugal have big name players and experience of the very elite level in abundance with players like Cristiano Ronaldo, Bruno Fernandes, Edinson Cavani and Luis Suarez, who caused uproar when Uruguay and Ghana met in the 2010 quarter-final, all capable of captivating an audience by themselves. You could also go and pick some holes in them both though and that's what gives Ghana more than just a puncher's chance go progressing into the knockout rounds.
After all, it's not like Ghana are a team of amateurs coming along to Qatar for a kick about. Kamaldeen Sulemana is one of the hottest young players likely to head to the World Cup this year, Mohammed Kudus can influence things in the middle of the park and has Champions League experience. Daniel Amartey is a Premier League winner and the Ayew brothers – Jordan and Andre – have never let Ghana down either.
Senegal
Last but not least in our look at which African team will go deepest at Qatar 2022 is Senegal. In our mind, this group of players is the most capable of going far at the World Cup as well and, in many ways, they're a dark horse to go where no African side have ever gone before be that making the last four or going all the way.
Their group, group A, should be something they can navigate without too many issues. Netherlands are a good side but not unbeatable. Ecuador are bang average and Qatar are purely making up numbers as the host country; the fact Qatar face Ecuador in the opening game is a huge boost for Senegal too because that's a much tougher match than it looks on paper owing to the occasion and the emotion that will put on the Qatar players.
In terms of playing squad. Senegal have loads of quality and understand how to win; the African Cup of Nations success is the evidence for that as they beat an Egypt side starring Mo Salah. Just look at the spine of Senegal's team – Edouard Mendy, Kalidou Koulibaly, Idrissa Gueye, Sadio Mane. They are all players that would get in most of the teams heading to Qatar and, over a 90 minute match, it's feasible that they could beat anyone. And we mean anyone!