Have Nigeria missed a golden opportunity in failing to qualify for the World Cup?
Published: June 22, 2022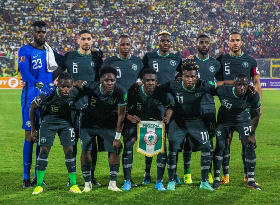 Nigeria supporters were devastated when the national side drew with Ghana and failed to qualify for the 2022 World Cup in Qatar. This was a hammer blow to José Peseiro's side, with many of his charges currently in their prime. With a wealth of talent at the Super Eagles' disposal, this certainly feels like a missed opportunity. Fans will now have to find other ways to spark their interest in the upcoming competition.
How Can Nigeria Supporters Enjoy the Competition?

Super Eagles fans will be forced to join the multitude of other nations that don't have a team to follow in the 2022 World Cup in Qatar. It makes it hard to get excited about the competition, but there are ways to become more involved even when you don't have a team to support.
Take India, for example. They've never taken part in a World Cup, yet the event is hugely popular on the subcontinent. Indeed, the tournament in 2018 attracted more than 115 million viewers, making it one of the most popular sporting occasions in the country. This is because fans love being able to choose a team to back and having the opportunity to change it every time.
The betting industry has also helped spark a greater interest in football in India. With the widespread availability of the internet there now, online betting sites are competing for customers. People who want to wager turn to the best football betting sites in India, and choose the best of all the options based on their ratings. They can also choose between the welcome bonuses at the various sites or check out some user reviews.
Nigeria fans will doubtlessly follow in the footsteps of India, and it's wise to assume that a lot of this football-mad nation will still be watching the World Cup. They will be left pondering what could have been, however.
Current Crop of Players Seemed Too Good to Miss Out

Nigeria has always been blessed with a strong national side and has only failed to qualify for one other World Cup out of the last eight. Some would say that the current crop of players is one of the best in years, with plenty of stars playing at a high level for top clubs in Europe.

For example, Emmanuel Dennis has just had a great season in the Premier League with Watford, and Ademola Lookman has broken into the Leicester City side. Kelechi Iheanacho has also been a regular performer for the Foxes, and the former Manchester City man is one of the most talented players in the Nigeria squad. Moses Simon is another big name that the Super Eagles often rely on, and the Nantes player has been a regular presence in recent years.

Then there are the likes of Alex Iwobi, Leon Balogun, and Victor Osimhen. Of course, there's also the star man, Ahmed Musa, who is currently plying his trade in the Turkish Süper Lig with Fatih Karagümrük. He's racked up 105 caps for the country, and he was expected to be the man to lead Nigeria to Qatar.

Some Ageing Players Won't Be Around for the Next Tournament

Musa will be over 33 years of age by the time the next World Cup in Qatar rolls around, and he's likely to be well past his prime then. Indeed, as he's not playing at the top level of European football anymore, he may well have just missed his final chance to appear at the World Cup.

Then there are the likes of Odion Ighalo, who will be 37 in the next event. He will most certainly miss out on that competition. That feels like a lost opportunity for Nigeria, as the former Watford man was a deadly forward in his prime. He even earned a surprise move to Manchester United in 2020, although this transfer didn't pan out and he only made 12 appearances for the Old Trafford club during the loan.
The good news for Nigeria is that there is a lot of young talent coming up, and they should be well-positioned to qualify for the next tournament. It may help if Nigeria's top players, such as Iheanacho, seek moves to clubs where they can earn regular minutes, however. Nigeria fans will have to choose another team to follow this year and could up their interest levels by betting on the tournament.
Latest News