MG Sportswear United Kingdom celebrates Nigeria contingent to the Commonwealth Games
Published: July 29, 2022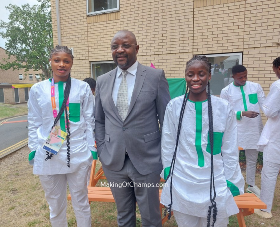 MG Sportswear, an England based Sportswear manufacturing company got one of the biggest order to supply kits for some of the Nigerian contingents participating in the ongoing Commonwealth Games taking place in Birmingham, United kingdom.

As part of efforts of the sports administrators in ensuring that the Nigerian contingents to the game are properly and adequately provided for in terms of kits sportswear, the company was engaged to supply some aspects of the kits required for the games for team Nigeria.

Upon receiving the order to make this supply, the company went into panic mode but was able to rise to the occasion in line with the promise made to the hard working Hon Minister of Youths and Sports Development  and the President of the Athletic Federation of Nigeria(AFN) to deliver on the mandate.

In order to ensure prompt and on time delivery and supply of the extra kits, the contracted company had to engage extra workers to get the job done as specifically demanded by the sports officials.

There is no doubt that the company will enjoy this opportunity,  which is a chance in a life time with the hope of doing further business with the Nigerian sports sector.

The Honorable Minister and the President (AFN) no doubt want to ensure that previous mistakes in former sporting campaign are not repeated in relation to the supply and provision of kits for Nigeria contingents.

Th two leaders of  the sports sector in Nigeria have been praised for their super piloting of this sector especially in providing the adequate and enabling platform for our contingents to the Commonwealth to succeed.
Ifeanyi Emmanuel
Photo Credit : makingofchamps.com