10 secrets of successful online football betting
Published: November 28, 2022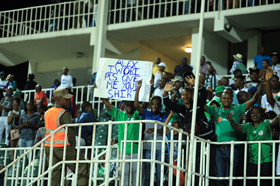 Football is the most popular game in the world. Not only to play but also to wager on. In Nigeria, in particular, everyone loves football. One could even go as far as saying that the majority of people associate online betting exclusively with this sporting discipline. All bookmakers offer football, so there's no problem finding markets.
Of course, there are many little things and tips that would be great to know for those wishing to succeed in the world of sports betting. Various websites aim to explain it, as well as describe how to use the most popular betting platforms. This article may be one such example: https://1xbetnigeria.ng/how-to-bet-in-1xbet-in-nigeria/
However, the text that follows will focus on more fundamental issues: how to master football betting.
Learn How Betting Works

This might sound obvious but understanding what betting is and how it works is crucial to your success. Learn the basics of it. Understand what the odds are and how they are calculated. Study the most popular types of football bets: over-unders, moneylines, point spreads, parlays, and others.
Become Familiar With the Sport

Soccer is an old sport with a rich history that dates back thousands of years. It started taking its current form around 150 years ago, and that's about when the tournaments began to occur. Football started gaining popularity: FIFA was established in 1904, and the first World Cup took place in 1930. Since then, football has become even more common. Learn about the past of football to know what to expect from its future. 
Learn its rules too. They are relatively simple but reading more in-depth explanations and watching games on a regular basis will be very useful. Basically, the game consists of two teams trying to score more goals. No hands can be used, unless the player is a goalkeeper or throws the ball back into the field. The game lasts 90 minutes and consists of two halves with additional time. 
Learn About the Current Teams and Players

In the world of soccer, things can change quickly. While there are teams that are historically strong and players who have rightfully achieved their legendary status, nothing is set in stone. Even the best midfielder can get injured or have a bad game. The team that is usually quite powerful can perform worse compared to the previous season. It's especially true for large championships like the World Cup, which occur only every few years: a lot can change in that time. 
Prepare Your Budget 

If you want to get serious and professional at betting, be wise about your spending. Prepare your monthly budget for betting and set certain expectations. Keep track of the way you use your money and don't overspend. Gambling addiction is the last thing you want, so be aware of that.
Be Patient

Being cold-minded and not rushing things is crucial for any successful bettor. You must think straight and avoid being overly emotional. It's good to be actively interested in betting, but keeping things under control is a must. Remember that there are no formulas to win 100% of the time, so be prepared for losses. Keep in mind that ups and downs are normal. 
Use Multiple Bookmakers

There's no need to only use your favorite platform. Various services can offer different odds, and some can be higher than on the website you use the most. Analyze the market and register accounts on other betting platforms that provide high odds. This will increase your chances of making more money when wagering. 
Don't Ignore Promotions 

Betting platforms often provide various promos and signup bonuses. You can make use of them. Some offer free bets or huge discounts. Successful wagerers don't ignore them and turn things even more profitable. 
Keep Track of Your Data

It's important to keep track of your betting history. You can analyze it later and learn from your mistakes, as well as find out the things you're good at. It also helps to plan your budget. Start tracking your betting history, if you want to check your progress, set goals for the future, and compare your successes from different points of time to each other.
Be Active in the Community

Exchanging ideas and listening to others, especially more experienced bettors, can prove quite useful. Thankfully, the Internet makes connecting with people easier, and betting communities are now larger than ever. 
Think Long-Term 

This might be the continuation of the aforementioned "be patient" tip but this is important to remember: treat betting as a marathon, not as a sprint. It's better to set realistic goals and not waste time catching "the big win.". Make plans and consider what you can improve. Continue learning more about betting and football. Become an expert in the sport. Don't get emotional over losses, and analyze them. This is the only way to move forward and become more successful in betting.
Latest News