Diego Maradona's 'Hand of God' World Cup 1986
Published: January 25, 2023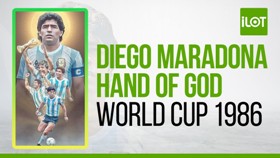 Diego Maradona's 'Hand of God' goal against England will forever go down in FIFA World cup history as one of the greatest goals of all time. Why not make history by winning big on the best sport betting platform in Nigeria: iLOT BET- Sport Betting Extraordinaire!
The 1986 World Cup Quarterfinal between Argentina and England is perhaps one of the most famous FIFA World Cup clashes in history. Featuring two countries, it also featured arguably the best player in the world at the time in the person of Diego Maradona.
He was never one to shy away from the limelight, and he was front and center at Mexico City's Azteca Stadium, scoring two goals that went down in history: one that was later voted as 'the goal of the century' as well as a goal dubbed 'the Hand of God'. The Hand of God goal has now been dubbed the Maradona World Cup due to his protagonist role. He was in the prime of his career, and as captain of that Argentina side, he did not only score the two goals in that quarterfinal, but he also led the team all the way to win the tournament final.
The Albicelestes defeated Belgium 2-0 in the semifinals, with Maradona once again scoring a second-half double, before they defeated West Germany in the final 3-2. It was Argentina's second World Cup success and Maradona was later named best player of the tournament as he scored five goals and assisted five more.
The name for the goal, 'Hand of God' actually comes from a famous interview Maradona gave directly after the match. When asked by journalists how he scored his first goal, he replied, "A little with the head of Maradona, and a little with the Hand of God." He also claimed that he ordered his teammates to come and celebrate with him, as he was afraid the referee would disallow the goal if he celebrated on his own.
In an Argentinian TV program in 2005 he once again confessed that he used his hand to score the goal, with that being seen as his form of an apology to the England team. Many people, including England goalkeeper Shilton, rejected his apology though, saying that it had come far too late. Maradona a few days later came out in an article and clarified that his statement wasn't an apology, but more of an acknowledgment that the past cannot be changed.
REMEMBER THE NAME –DIEGO MARADONA. Place a bet on your favorite Argentina Superliga team on iLOT BET and make more money by selecting the Superliga favorite.
Latest News