Every word Zambia coach said on Flying Eagles, delay at airport, NFF,  AFCON chances and more
Published: February 04, 2023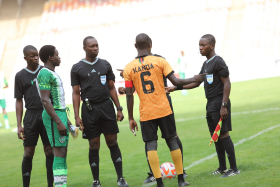 In an pre-AFCON friendly staged at the National Stadium in Abuja on Friday, the Zambia U20 national team lost 4-2 to Nigeria in the first game of their West African tour. 
Seven-time African champions Nigeria needed two late goals from Emmanuel Uchegbu and Samson Lawal to overcome the Zambians.
The Zambians qualified for the upcoming tournament in Egypt by virtue of winning the COSAFA U20 Cup, while the Flying Eagles were crowned WAFU B champions.
Zambia U20s head coach Chisi Mbewe faced the cameras shortly after his side succumbed to a late defeat by the Nigerians. 
Answering questions from the Nigerian media, Mbewe revealed the players and officials of the Young Copper Bullets were made to wait at the Nnamdi Azikiwe Airport in Abuja for at least five hours due to visa issues. 
He also assessed the chances of the Zambia and Nigeria teams qualifying for the 2023 FIFA U20 World Cup and revealed what impressed him about the Flying Eagles during the friendly. 
Here's every word from the Zambia coach : 
Thank you very much for the privilege, very good game your boys played today. Were you surprised by the level of play from the Nigerians?

"First and foremost we appreciate God for this friendly. I want to take this opportunity to appreciate the NFF for this invitation. It has given us a true picture of what we expect and where we suppose to work on.
"Then again coming into the game this afternoon good intensity, good play I'd say from Nigeria, also from the Zambian squad. I think my boys showed character, unfortunately we just made mistakes that made us to lose this game but it's a good preparation for us and again I'd say maybe the boys were a bit of fatigued because we had to stay five to six hours at the airport because of the visa issues. Otherwise we appreciate the NFF for this training game."
You are COSAFA champions, these are WAFU B champions. Looking at football in Africa, seeing the level of play from both teams compared to what maybe you've seen around the world, how far do you think African football at this level has gone?

"So far so good, I'll rate the performance 85 percent. We just have to work extra hard so that again we take this game of football to another level. I'd say so far so good, I'm happy with the way Nigeria played, the tactics, those who started, those who came in you could see they went as a team and you could see that they have been together for quite a long time.
"I think even for us we are here for a friendly game, we are still sharpening up for the AFCON so we know where to touch, where we need to improve as we're going closer and closer to the AFCON in Egypt.

How far do you think your team can go and how far do you think the Nigerian team can go at the AFCON?

"Both teams are preparing to qualify first for the World Cup, for us which is our first goal, secondly is to reach the finals of the AFCON and to be able to win the AFCON.
"I think both teams are doing so well. They will go very far, we just need to stay focused, we just need to improve in areas where we have not done so well if we are to achieve our goals. 
"Otherwise so far so good. Nigeria and Zambia I think they will go very far in this AFCON."

Your next game is against Senegal, what should we expect from your team?

"Like I said this game has given us a true picture where we need to work on, the areas. And again we came with a 23-man squad, we need to use everyone, we need to prepare all the players.
"Again we'll see. If we get Nigeria I think it will be a different ball game, even the payers themselves are not happy even though it was an international friendly. We'll do much better in the next game."
Ifeanyi Emmanuel 
 
Photo Credit : Zambia FA
Copyright ANS

All rights reserved. This material, and other digital content on this website, may not be reproduced, published, rewritten or redistributed in whole or in part without prior express written permission from allnigeriasoccer.com

Latest News